'Downtown' Josh Brown On Alibaba: U.S. Investors Aren't 'Plugged In'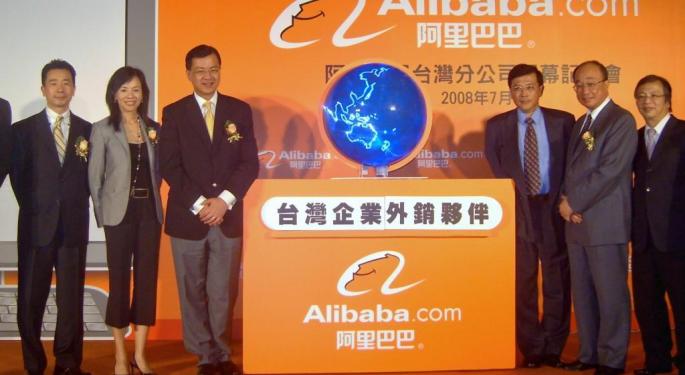 Analysts at Raymond James reiterated Chinese ecommerce behemoth Alibaba Group Holding Ltd (NYSE: BABA) as its top pick despite an already impressive 22 percent year-to-date run.
Commenting on Raymond James' call during CNBC's "Halftime Report" Friday, "Downtown" Josh Brown suggested North American investors are "missing" the Chinese internet growth story and are just "not plugged in."
Brown said Alibaba had a great IPO only to see the stock "fizzle" amid accounting investigations. After that, institutional buyers merely lost interest in the name but at the same time the company has turned itself into a giant.
"There's a lot happening with these Chinese internet names," Brown argued. "Alibaba, perhaps as the most accessible for U.S. investors really ought to be on more people's radar screens. I think above $110 [per share] the juice is loose. I don't feel like there is enough discussion about it."
Counterfeit Issue 'Doesn't Matter'
Another thesis against owning Alibaba's stock is the fact that many sellers on the platform are shipping counterfeit goods. This is not only illegal but erodes the value proposition for legitimate sellers.
But Stephen Weiss isn't concerned. He jumped in during the "\Halftime Report" segment and said the counterfeit issue "doesn't matter because they are the number one company."
"I think it's safe in China," he emphasized.
See Also:
Will Alibaba Buy Yelp? Not Likely
Online Video Remains Primary Influencing Factor In Alibaba Estimates For Next 6 Quarters
Image Credit: By Rico Shen, CC BY-SA 4.0-3.0-2.5-2.0-1.0, via Wikimedia Commons
View Comments and Join the Discussion!
Posted-In: China China eCommerce CNBC CNBC Fast Money Josh BrownMedia Best of Benzinga