Blackstone's Vice Chairman Explains President Trump's Best Attribute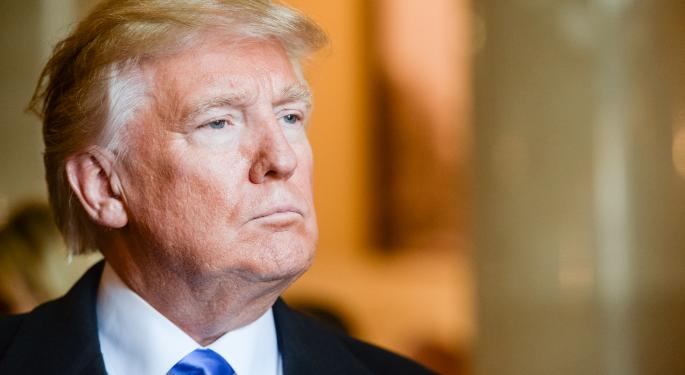 President Donald Trump is still dealing with a major blow to his presidency as his campaign promise of repealing and replacing the Affordable Care Act failed to even make it to a vote. But according to Blackstone's John Studzinski, the president is in good position to rebound from his defeat.
Speaking as a guest on CNBC's "Squawk Box" segment on Monday, Blackstone's vice chairman argued that Trump will rebound because of his ability to listen, take feedback and consult with politicians on both sides of the aisle.
Studzinski further pointed out that over the past week or so Trump has "become a lot more active" in reaching out to Democrats. In fact, he believes Trump will take a page out of British Prime Minister Theresa May's political book and combine policies from all ends of the spectrum.
"He's going to do what he's actually very good at, which is getting people in a room, talking to them, and listening and trying to compromise," Studzinski added.
Needs To Work On Patience
While Trump's ability to work with everyone is his greatest attribute, Studzinski thinks that Trump's worst attribute is his lack of patience. Specifically, the president tried to pass his healthcare reform in break-neck speed and he needs to take more time to get things done.
While Trump may suffer from a lack of patience, the stock market is patiently waiting for signs of tax reform and other market-friendly initiatives from the White House. The problem is the stock market's patience is slowly running out.
"If by the middle of August nothing happens, and I doubt it will, then you'll see the stock market react with even greater caution than it has now," Studzinski concluded.
Related Links:
Deere's CEO Talks Trump's Infrastructure Plan And Taxes
If Trump Plans To Pivot From Healthcare To Tax Reform, He May Want To Tell Congress...
______
Image Credit: By Sgt. Alicia Brand - here, Public Domain, via Wikimedia Commons
Posted-In: CNBC CNBC Donald Trump health care John StudzinskiPolitics Media General Best of Benzinga
View Comments and Join the Discussion!