President Trump Binges On Fox News And CNBC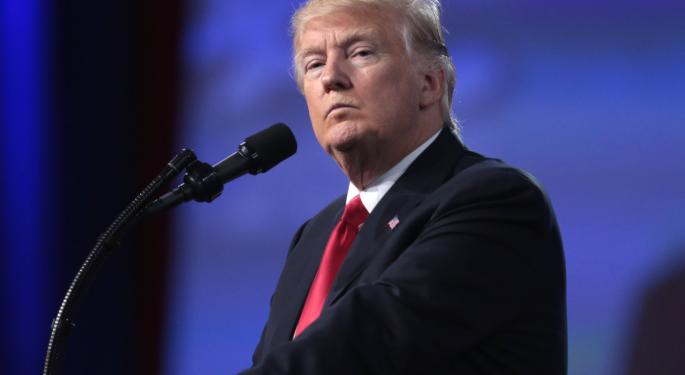 The Economist reported in February that President Donald Trump's classification of the media as being an "enemy" of the American people actually helped media networks expand their audiences.
Needless to say, individuals who consider themselves to be leaning right (conservatives) on the political spectrum prefer watching Fox News (Twenty-First Century Fox Inc (NASDAQ: FOXA)). Several of the network's TV show hosts, including Tucker Carlson and Sean Hannity, have only supported the president throughout the campaign.
See Also: JJ Kinahan Breaks Down How Trump's Speech Affected The Market
On the other hand, TV stations such as MSNBC and CNN typically attract those who consider themselves to be on the left of the political spectrum. Notable TV hosts on this side of the spectrum that were open in not supporting Trump include MSNBC's Rachel Maddow and Joe Scarborough and CNN's Van Jones.
Who Does Trump Watch?
According to a Bloomberg report, Trump no longer watches as much CNN and MSNBC as he used to and has even sworn off MSNBC's "Morning Joe" show. The president does spend a few hours watching Fox News and tunes into CNBC on occasion to catch up on business headlines.
When Trump has free time in the evenings he tunes into Fox News' Hannity or Bill O'Reilly. In fact, Trump has so far given three interviews to Fox News' hosts, more than any other network.
There is, however, one problem. Mark Feldstein, a broadcast journalism professor at the University of Maryland, told Bloomberg that Trump's open support of Fox News could give the impression that the network is becoming "the Pravda of the government."
Image Credit: By Gage Skidmore from Peoria, AZ, United States of America - Donald Trump, CC BY-SA 2.0, via Wikimedia Commons
Posted-In: CNBC CNBC cnnEducation Politics Top Stories Media General Best of Benzinga
View Comments and Join the Discussion!