Ordering Groceries Online Could Be A $100 Billion Industry In Less Than 10 Years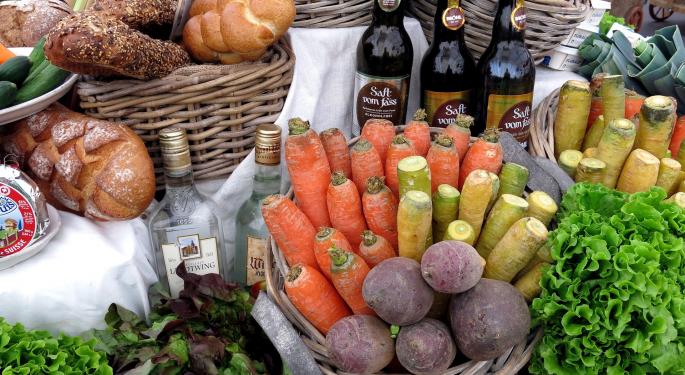 If you order your groceries online, you are likely part of the small minority of households. But within 10 years, the majority of households will in fact be placing orders for groceries online.
CNBC, citing a report from the Digitally Engaged Food Shopper, reported that around 25 percent of American households buy some groceries online, which represents an increase from 19 percent in 2014. However within 10 years, the figure will surge to 70 percent while sales of canned goods, condiments, spices and center of store products will see sales grow at a faster rate.
What's In Store For Online Groceries
By 2025, the "on food-at-home items" market will be a $100 billion industry and supermarket stores will be wise to better position themselves for the next leg of growth.
Some companies are already positioning themselves appropriately. For example, Wal-Mart Stores Inc (NYSE: WMT) entered into a partnership with Uber and Lyft to service its online shoppers and began testing grocery delivery last summer.
Similarly, Kroger Co (NYSE: KR) announced in 2015 the expansion of its online grocery shopping, order fulfillment and curbside pickup program in various markets across the United States where it is seeing strong demand in online shopping.
"Only the retailers that first develop an understanding of their digitally engaged shoppers, build a strategy around that understanding and cost-effectively integrate digital food retail into their banner and channel promise will be market leaders," the report stated.
Despite the expected surge in online grocery shopping, traditional retail brick and mortar stores won't see their existence being threatened. In fact, grocery stores will see success in expanding areas such as service delis, bakery and meat departments and also offer trendy food sections such as sushi bars and food courts.
View Comments and Join the Discussion!
Posted-In: CNBC CNBC GroceryCommodities Markets Tech Media Trading Ideas Best of Benzinga