Former Chief White House Ethics Lawyer: Rex Tillerson Is Following Proper Protocol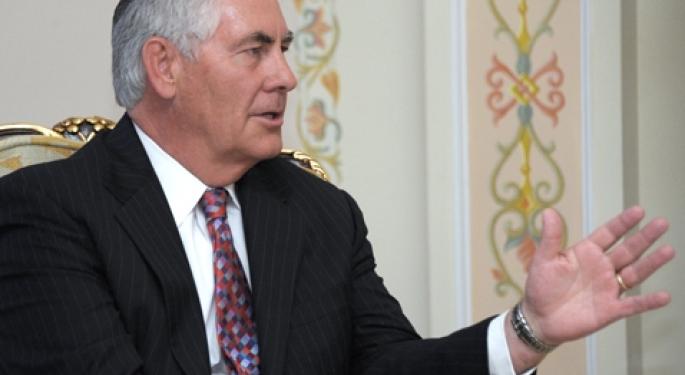 Rex Tillerson, former CEO and chairman of Exxon Mobil Corporation (NYSE: XOM) reached an agreement with his former company to several all ties and to comply with conflict-of-interest requirements as part of his nomination as U.S. secretary of state.
As part of the agreement, the value of more than two million deferred shares of Exxon's stock, which Tillerson is entitled to receive over the next 10 years, will be transferred to an independently management trust and the share awards will be cancelled.
The trust cannot invest in Exxon's stock, and the assets will be managed according to government ethics rules.
In conjunction with the agreement with Exxon, Tillerson will also sell more than 600,000 shares of Exxon's stock he already owns.
All of the provisions are naturally contingent on Tillerson being confirmed to his new post.
Expert: 'Exactly The Direction'
Richard Painter, the former chief White House ethics lawyer, was a guest on CNBC on Wednesday to offer his expert take on Tillerson's agreement with Exxon.
According to Painter, Tillerson's pledge to sell his Exxon's stock and sever ties with the company is "exactly the direction which he should be going."
He added that should Tillerson return to the oil industry in the future, the executive would be required to forfeit a lot of money and this move is above and beyond current ethic guidelines.
Trump's To-Do List Remains Unfinished
Painter did, however, note that President-elect Donald Trump still needs to divest his financial conflict of interests so create a conflict free administration.
"You need to make financial sacrifices for public service and I think the president is going to need to do the same thing or he isn't going to have credibility as president," he concluded. "I still believe that he is going to turn around on this and come up with a plan for the divestment of the Trump business empire — but it is going to need to be genuine."
Image Credit: premier.gov.ru [CC BY 4.0 or CC BY 3.0], via Wikimedia Commons
Posted-In: CNBC Donald TrumpNews Politics Legal Management Media General Best of Benzinga
View Comments and Join the Discussion!