Conference Calls And Profanity? Yes It's A Thing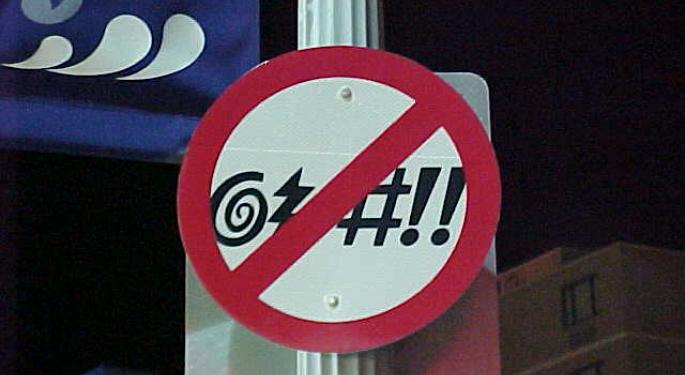 After a company reports their quarterly results, management hosts a conference call with Wall Street analysts and investors. Normally, one would expect management to be on their best behavior, but as CNBC's Jim Cramer pointed out, Apple Inc. (NASDAQ: AAPL)'s recent conference call was full of hostility — from the analysts.
For many investors, this may be the exception, but CNBC's Eric Chemi pointed out that there have been more than 1,000 instances of profanity used by executives over the past decade. In fact, the number of instances of cursing during a conference call so far in 2016 is more than all of 2014 and 2015.
Chemi continued that he went through 100,000 conference call transcripts to find instances of profanity. He did acknowledge in some cases the use of profanity was humorous.
For example, Carl Bartz, Yahoo! Inc. (NASDAQ: YHOO)'s former CEO said, "So, we had a lot of people running around telling engineers what to do, but nobody f—ing doing anything."
JPMorgan Chase & Co. (NYSE: JPM) CEO Jamie Dimon said in 2014, "I want to [...] try to stop stepping in dog s—, which we do every now and then."
Swearing Can Have A Positive Impact?
Chemi pointed out that using profanity at work could actually help build credibility and confidence.
"Our data shows if you take the companies that used the most profanity and put them in their own portfolio they would outperform the overall market by about 40 percent over the past decade," he explained.
For those who are curious, executives at Mastercard Inc (NYSE: MA) were crowned as having the worst potty mouths.
Winning Quote
Finally, Chemi highlighted his most memorable use of profanity, courtesy of Albert Lord of SallieMae during a conference call in 2007, "There's no — no questions. Let's get the f— out of here."
Image Credit: By Ben Schumin - Own work, CC BY-SA 3.0, https://commons.wikimedia.org/w/index.php?curid=7357886
Posted-In: CNBC CNBC conference calls Eric Chemi Jim CramerMedia General Best of Benzinga
View Comments and Join the Discussion!