Tim Cook Believes Apple Still Has Growth Opportunities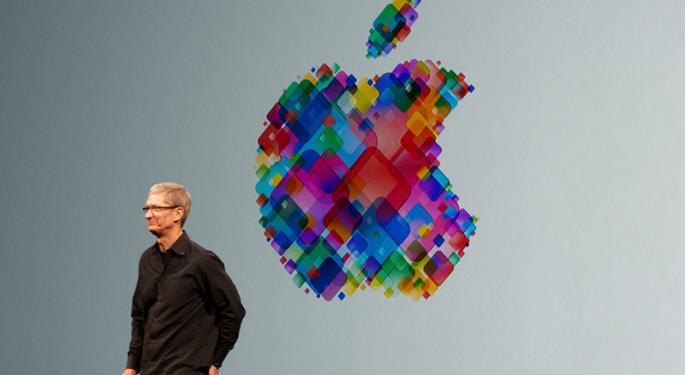 Jim Cramer spoke on CNBC's "Mad Money" with Tim Cook, the CEO of Apple Inc. (NASDAQ: AAPL), about the future of the company.
Cook said Apple had an incredible quarter by absolute standards, with more than $50 billion in revenues and $10 billion in profits, but it wasn't up to the Wall Street expectations. He added that the most important thing for the company is that the customers love its products.
Some analysts believe Apple is now so big that it can't grow any more and that its best days are behind it, but Cook disagrees. He sees more room for growth in the smartphone market, especially in the emerging markets like India. The company has innovations that will motivate people who already own iPhone to upgrade to new devices. The goal of Apple is to offer people products that will make them wonder how did they live without them.
Services segment is the second-largest revenue segment of the company. Cook said it's the fast-growing and there are already over 1 billion devices in use.
Related Link: Tim Cook On Apple: It's My "Error" I Haven't Stressed Chinese Middle Class Growth More
The China Syndrome
Cook spoke also about China. He's excited by a huge rate of switchers as a number of people switching from Android to iPhone grew 40 percent. The economy in China isn't as strong as it was a year ago, and its currency is weakening. However, on a two-year basis, Apple grew 70 percent in China, which is a good result.
The smartphone industry is growing in China and there is a movement between different suppliers. Cook thinks Apple is doing quite well in the areas it plays. He's thrilled by the last month results in the iPhone SE launch in China. Books and movies are currently off line, but the company is working with various government agencies to make that product available, explained Cook.
The middle class in China is booming. Cook said in five years, it's going to grow to 500 million people from a current number of 50 million people. He added the long-term thesis on China is still intact and he is still optimistic as he has ever been.
What About India?
Cook believes India is a huge opportunity because it's going to be the most populous country in the world in 2022 and has 50 percent of its population at 25 years of age or younger. He added that LTE is going to roll out in India this year and the smartphone market is just at 40 percent of its potential.
View Comments and Join the Discussion!
Posted-In: ChinaLong Ideas Emerging Markets Top Stories Markets Tech Media Trading Ideas Best of Benzinga