The Market In 5 Minutes: Friday, March 4, 2016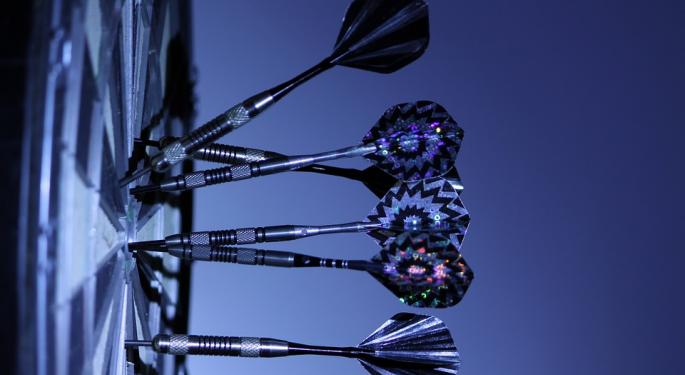 Below is a tool used by the Benzinga News Desk each trading day -- it's a look at everything happening in the market, in five minutes. Apply for daily AM access by clicking here or emailing minutes@benzinga.com.
Macro Focus
Non-farm Feb. payrolls smash expectations. 242K vs 190K est.
Private payrolls hit 230K vs 185K est.
Feb. unemployment rate unchanged at 4.9 percent, but job losses continue in mining.
No update after North Korea says it's ready to use nukes at a moment's notice Thursday night.
"Maybe no one" won Thursday night's GOP debate.
China releases its new five-year plan this weekend.
Natural gas could be in for bad summer.
Desk Focus
Smith & Wesson (NASDAQ: SWHC) shares skyrocket after record gun demand, strong guidance.
Disney (NYSE: DIS) "Zootopia" film getting huge social media hype.
Bluebird Bio (NASDAQ: BLUE) spikes after positive Piper Jaffray and Wells Fargo commentary on Lenti-D data; Piper calls it "very promising."
Weight Watchers (NYSE: WTW) insiders get bullish after bearish options activity earlier in week.
Sunedison (NYSE: SUNE) and TerraForm Power (NASDAQ: TERP) reach settlement.
HP Enterprise (NYSE: HPE) skyrockets 14 percent after strong guidance, rewarding investors who read spinoff research.
China Techfaith (NASDAQ: CNTF) continues move up after reports latest contract buyer is Nielsen Audio.
Anadarko Petroleum (NYSE: APC) investors digest reports company will initiate layoffs next week, shares up 5.5 percent.
Wingstop (NASDAQ: WING) rewarding investors after earnings beat and good guidance; chicken wings still in bull market.
SolarCity (NASDAQ: SCTY) shares spike early, selloff day after Musk go-private rumor circulates.
Sell-Side Themes
Analysts discussing recession predictions. JPMorgan sees 33 percent chance; Wells Fargo says 23.5 percent.
Auto bubble talk not ending.
Oil predictions being made too. Credit Suisse sees $50 by May, Macquarie sees $30, Barclays is near $40, and UBS thinks the entire oil market is in short squeeze mode.
Brexit likelihood being modeled. Credit Suisse/ICM data shows likelihood now near 40 percent, was 32 percent last summer.
Sell-Side's Most Noteworthy Calls
As airliner traffic numbers continue coming in, Buckingham says air fare pricing environment in "evolution." Likes all U.S. airliners except Allegiant Travel (NASDAQ: ALGT) [Neutral].
Monsanto (NYSE: MON) downgraded at Goldman Sachs [Sell].
Morgan Stanley says Under Armour (NYSE: UA) can make $14 billion off Steph Curry.
Longbow warns against shorting 3D Systems (NYSE: DDD) [Neutral].
H&R Block (NYSE: HRB) downgraded by Wedbush [Neutral].
Marsh & McLennan (NYSE: MMC) upgraded at Goldman Sachs [Conviction Buy].
Nimble Storage (NYSE:NMBL) downgraded at Piper Jaffray [Neutral].
Macquarie goes all out on tech/cloud, starts Oracle (NYSE: ORCL) [Outperform], Microsoft (NASDAQ: MSFT) [Neutral], Workday (NYSE:WDA) [Underperform], and other names.
Evercore ISI upgrades JC Penney (NYSE: JCP) [Buy] with 40-50 percent upside call.
Dougherty downgrades Ambarella (NASDAQ: AMBA) [Neutral] month after upgrade.
Macquarie downgrades, issues stern warning to investors of Kroger (NYSE: KR) [Underperform].
Oppenheimer calls for S&P 2,300.
Deal Talk
FedEx (NYSE: FDX) is concerned with M&A talks between Norfolk Southern (NYSE: NSC) and Canadian Pacific (NYSE: CP).
Snapchat raises $175 million from Fidelity.
AMC Entertainment (NYSE: AMC) buys Carmike Cinemas (NASDAQ: CKEC) for $30 per share and market believes it; little arbitrage opportunity left.
Market also believes Tumi (NYSE: TUMI) takeover from Samsonite for $26.75 per share.
Notable Media Stories
Low oil hurts evil regimes, dictators [Bloomberg].
China may never fix its "zombie" factory problem [WSJ].
Funds are trimming their startup valuations [WSJ].
Dry bulk CEO warns of coming bankruptcies [ZeroHedge].
Yale economist sees bubbles everywhere [CNBC].
Academia
American distrust may be hurting the labor market [Brookings].
You can build your own robo advisor [Alpha Architect].
Sustainable projects will cost almost $8 trillion over next 15 years and someone has to pay for it [McKinsey].
Simultaneous declines in capital and commodities have led economic crisis before, and it's happening again [NBER].
Coffee prices still 50 percent off peak made in 2011, mid-90s [FRED].
Blogosphere
The next Amazon (NASDAQ: AMZN) or Apple (NASDAQ: AAPL) is "probably failing right now" [FiveThirtyEight].
The autonomous car market is worth $270 billion [Capital Market Labs].
The ideal Donald Trump trade is long Gold, short China [ValueWalk].
Biotechs are weak link in market [Price Action Lab].
It's your last chance to sell Chesapeake (NYSE: CHK) [Seeking Alpha].
Kinder Morgan (NYSE: KMI) could be Buffett-esque by 2021 [Seeking Alpha].
Buy-Side
Starboard cuts stake in Darden (NYSE: DRI) from 20 percent to 6.2 percent.
Whitney Tilson calls Herbalife (NYSE: HLF) situation really complicated.
Green Dot (NYSE: GDOT) says it's trying to work with Harvest Capital.
Trending On Social
RIG, CHK, IWM, WLL, WFT, AAPL, X, GPRO, KO, MDVN [StockTwits].
Posted-In: CNBC News Wall Street Journal Rumors M&A Economics Markets Movers Best of Benzinga
View Comments and Join the Discussion!