Warren Buffett Reveals How Precision Castparts Acquisition Unfolded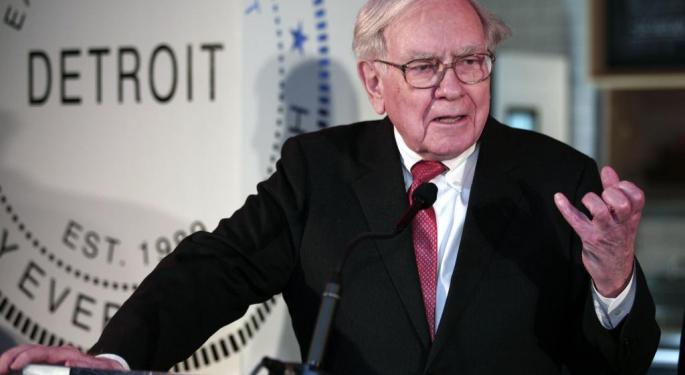 Berkshire Hathaway Inc. (NYSE: BRK-A) (NYSE: BRK-B) on Monday announced that it would be acquiring aerospace equipment manufacturer Precision Castparts Corp. (NYSE: PCP) in a $37.2 billion deal, paying $235 per share for the company in cash.
Investing legend and Berkshire chairman Warren Buffett was on CNBC to explain how the deal unfolded.
Todd Combs Found The Company
"I got to give credit to Todd Combs for this deal," Buffett said. "We hired Todd about five years ago to manage money and he manages about $9 billion now. And maybe three or so years ago, he added Precision to his portfolio and I really never heard about the company before that and Todd told me a lot about it. And so over the last few years, I have become familiar with it."
Related Link: A Pair Of Aerospace ETFs Could Like Warren Buffett's Precision Castparts Buy
Impressed By CEO Mark Donegan
He continued, "And about five or so weeks ago, the CEO Mark Donegan along with his CFO and IR person came by Berkshire, they were seeing a number of shareholders, and they met with Todd and then I dropped in on the visit in the last 15 minutes or so and I was very impressed by Mark and of course I have been impressed by the company. So shortly thereafter I asked Todd to give them a call to see if they would be offended if we made a bid."
"And they didn't indicate they were particularly receptive, but they also indicated that they would listen, so I subsequently made a bid. I met Mark out at Sun Valley, he actually was flying -- he's in the air most of the time -- and so he came by because I was there for the Allen Company (Allen & Co.) conference. And I made him a bid and he took it to the Board and before long we had a deal," Buffett concluded.
Posted-In: CNBC Warren BuffettNews M&A Top Stories Media Best of Benzinga
View Comments and Join the Discussion!