Lam Research: 'Any One Customer Can Now Impact Us'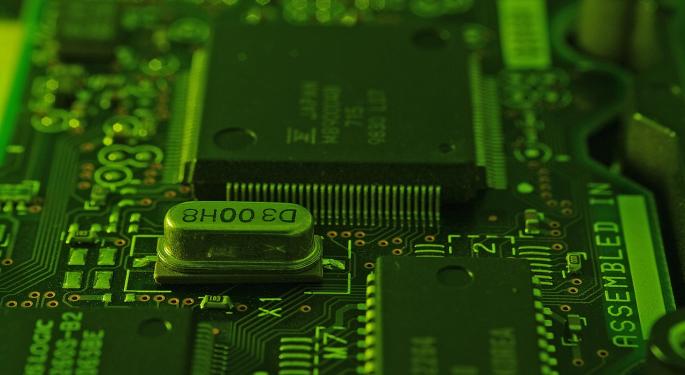 Lam Research Corporation (NASDAQ: LRCX) recently reported better than expected quarterly earnings with EPS of $1.50, beating analysts' estimate of $1.47. The company was also picked by Citi analyst Atif Malik as his top pick in the semiconductor space, in a research note released Tuesday.
Martin Anstice, Lam Research president and CEO, was on CNBC recently to discuss the company's growth plans for next year and the consolidation happening in the semiconductor industry.
Opportunity Is The Focus
"This calendar year, if we executed the stated plans that we have, will be the third successive year of 20 percent growth," Anstice said. "And history is interesting and a moment of time to feel good about. But the opportunity, I think, is even more exciting, and that's our primary focus today."
Related Link: PacCrest's Weston Twigg Still Overweight On Lam Research
Impact Of M&A
Anstice was asked how the recent consolidation in the semiconductor industry is impacting Lam Research. He replied, "I think consolidation is a very kind of natural part of responding to the complexity of the challenges of the semiconductor industry and its supply chain. And you have seen...a decent amount of evidence of that in the last three years, particularly, there has been consolidation.
"Reality in our business today, the top five customers represent 70 percent of the spending of wafer fabrication equipment. So...there are some big guys that we need to support and respond to and consolidation, I think, drives innovation. There is a healthy competitiveness. I would say, there is less cyclicality in our industry today as a result of that consolidation.
"But we should all recognize that any one customer can now impact us and our peer group more significantly than ever before. So, I think, perhaps less cyclicality and perhaps more variability on a quarter-to-quarter basis, and obviously our focus is on the long-term profitable and sustainable growth of the company," Anstice concluded.
Image Credit: Public Domain
Posted-In: Atif Malik Citi CNBC Martin Anstice semiconductorTech Media
View Comments and Join the Discussion!