Buffalo Wild Wings Myth Busted: Sales Are Not Dependent On Sporting Events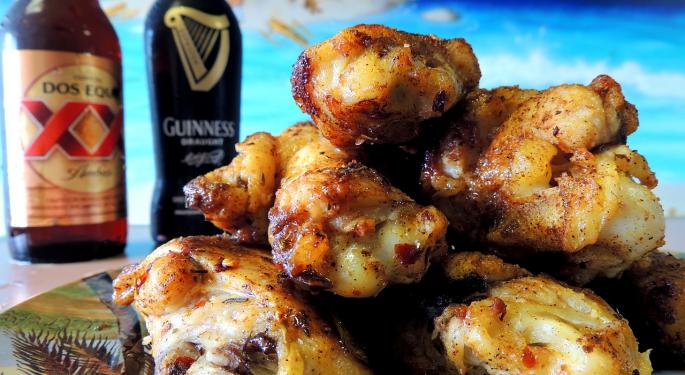 While many correlate sales of Buffalo Wild Wings (NASDAQ: BWLD) with a major sporting event taking place, the company's better than expected second-quarter numbers on Tuesday seem to have busted that myth.
Sally Smith, Buffalo Wild Wings CEO, was on CNBC recently to weigh in on the numbers and discuss how, even without lack of a major sporting event and chicken wings prices shooting up, the company managed to perform well for the quarter.
No Longer Dependent On Sporting Events
"What we heard from analysts is that everyone was really waiting to how we comped over last year's strong same-store sales due to the Men's World Cup," Smith began. "And with 4.2 percent at company's stores and positive traffic, I think, that sort of sent a very strong message that we have had a really great quarter and that we could continue to drive traffic even when there weren't specific sporting events that our guest could watch."
Couple Of Positives
On prices of chicken wings going up and lack of any major sporting event during the quarter not impacting company's sales, Smith said, "Well, I think, they have been monitoring and they saw that chicken wing prices were up. Overall, I think, while we were up a little bit in our cost of sales, they came in below what we expected.
"We saw some nice leverage in the rest of our market basket. I think there's a couple of positives out there. We announced that we were acquiring 41 stores from one of our franchisees in Texas, New Mexico and Hawaii. That gives us some nice runway in terms of cash flow and net earnings as we go into 2016 and beyond," Smith stated.
"I think the fact that we were, as I mentioned, positive in driving traffic and positive traffic numbers compared very well with the industry where you have seen traffic flat or down in the second quarter." Smith concluded.
At the time of this writing, shares of Buffalo Wild Wings were up around 12 percent and trading around $192.
Image Credit: Public Domain
View Comments and Join the Discussion!
Posted-In: CNBC Sall SmithRestaurants Media Best of Benzinga