After Bumper Q2, UPS Is Seeing 'Mixed Signals In The U.S. Economy'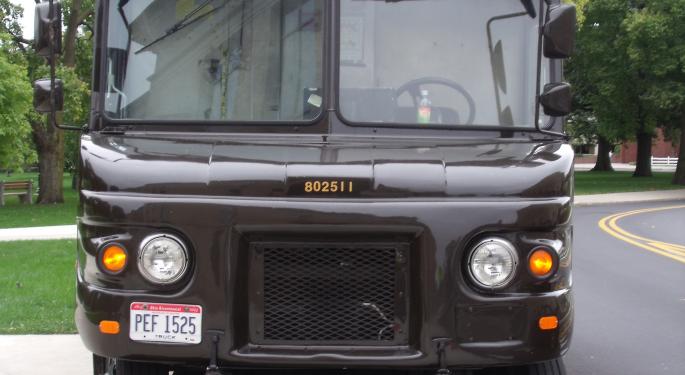 United Parcel Service, Inc. (NYSE: UPS) reported better than expected second-quarter numbers on Wednesday. EPS of $1.35 for the quarter was up 12 percent year-over-year and came in above analysts' consensus estimate of $1.26.
David Abney, UPS CEO, was on CNBC post the earnings release to discuss the second-quarter numbers, the reasons for Europe doing so well during the quarter and concerns regarding the U.S. economy going forward.
Cautious About U.S. Economy
"We had good results, including in the U.S. in this second-quarter," Abney said. "But what we did see is that we are seeing some mixed signals in the U.S. economy. I think, part of it is the U.S. dollar, the strength, part of it could be worried about what the Fed may or may not be doing in the next coming few months, but there is a little bit of a slowing."
Related Link: UPS Shares Reach Triple Digits Following Blowout Q2 Earnings
He continued, "We have even seen the pace of B2C (business to consumers) – while it's still growing pretty rapidly, not growing quite at the pace that it was. So, we expect to have a good rest of the year, but we do have a little bit of caution about the U.S. economy."
Growth In Europe
Abney was asked what drove the growth for the company in Europe during the second quarter where it saw operating profits go up by 17 percent. He replied, "It's due to quite a few factors. Obviously, the strength of the U.S. dollar is one of those. I think, also equally important is our pan-European network that is really unmatched in the industry, and European shippers are taking advantage of that. That's why we have such momentum in our international business right now."
Image Credit: Public Domain
Posted-In: CNBC david abney VetrTop Stories Media Best of Benzinga
View Comments and Join the Discussion!