Mizuho: Amazon Will Get 20 Percent Of Every Dollar Spent On E-Commerce In 3 Years, AWS Can 'Potentially' Be Spun Off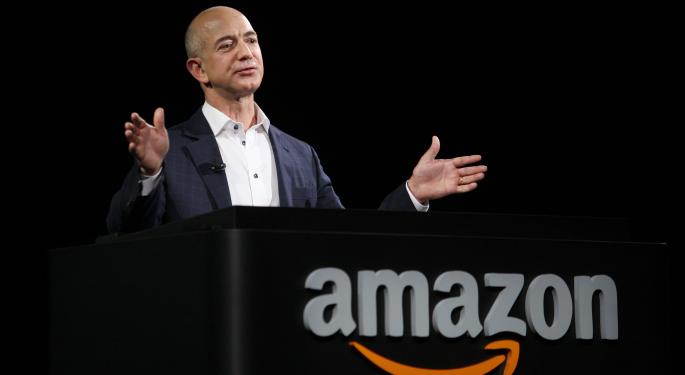 Amazon.com, Inc. (NASDAQ: AMZN)'s record second-quarter results might have surprised many. However, Neil Doshi, Mizuho Internet analyst, feels there are many more milestones that the company will be reaching soon.
Doshi was on CNBC recently to discuss those and share his outlook for Amazon Web Services.
Inflection Quarter
"Amazon really had a very strong inflection quarter," Doshi began. "Revenues reaccelerated to 27 percent year-over-year, strong gross margins. One of the highest we have ever seen and really the profitability on the operating income side hit 4.6 percent. The highest we have seen since 2011, very small in terms of total retail market share versus Wal-Mart. But, we think, in the next 3 years for every dollar that's spent on e-commerce, Amazon will get about 20 percent of that."
Investing In Right Places
On the investments Amazon made in the second-quarter, Doshi said, "They are definitely investing in future growth areas. But, we like the fact that they are investing around their core retail business AWS and the marketplace opportunity. They are not investing in driverless cars and rocket ships."
"So, they are investing in the Prime business, Prime is really creating flywheels for Amazon. As they get more Prime members to sign on, people are spending more on Amazon and that's just creating this really nice [virtual] cycle for them."
AWS
Doshi pointed out how AWS is contributing to Amazon's growth, saying, "This business itself is on about a $8 billion revenue run rate and contributed over 30 percent of Amazon's total operating income. So, a small piece of Amazon's business but very high margins and we think AWS could potentially be spin [out] one day and become its own business and its own company."
Posted-In: CNBCMedia Best of Benzinga
View Comments and Join the Discussion!