Competition Heating Up In Streaming: Paramount Pictures Jumps On Board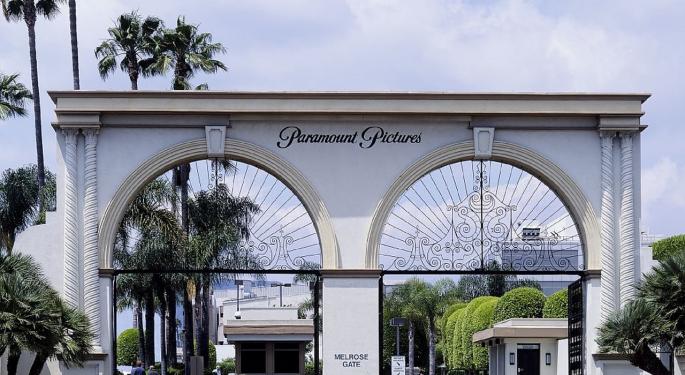 Viacom, Inc. (NASDAQ: VIA)-owned Paramount Pictures announced on Wednesday that it will start streaming its movies as early as 31 days from the time they hit the theaters.
Digital Trends Editor-in-Chief Jeremy Kaplan was on Fox Business News Thursday to weigh in on this. Kaplan also talked about the increasing competition in the streaming space for players like Netflix, Inc. (NASDAQ: NFLX) and Hulu.
A Logical Move
Kaplan was asked if Paramount is just realizing that it needs to be in the streaming business. He replied, "You got to be in it. Everyone wants to do this; everyone wants alternatives. We want to watch where we want. We want to watch what we want. We want that option.
"So, it's just the logical move to what the market wants."
Related Link: The Video Streaming Space Is Getting Crowded
Establishing Oneself Comes First
On whether Paramount can make the same kind of money that they make by screening their movies only in theaters Kaplan commented, "We are still at the beginnings of what is obviously a vast transformation of this industry. So, I don't know if the dollar volume is going to be there at present, but what you need to do if you are a brand, if you are movie house – establish yourself.
"Get everyone familiar with your platform. Get them to know and love your platform. Build something great from the start, then keep going with it."
At The Beginning Of An Industry
Kaplan highlighted the increasing competition in the streaming business, saying, "What we are seeing here is a growing battle between two of the giants. Here we have got Hulu, we have got Netflix – two of the biggest forces in streaming. Both of them have incredible subscriber bases already and, like I was just saying, we are at the beginning of an industry here.
"What I think is fascinating though [is], these companies are talking about streaming to devices, right? To your iPhone, to your tablet, whatever it is. However, if you look at what Hulu has been doing, most of the streams are actually going into living rooms. So, we just want, as consumers, we want an alternative. I think, more than anything else, we want an option," Kaplan said.
Image Credit: Public Domain
View Comments and Join the Discussion!
Posted-In: CNBC digital trends Fox Business News Hulu Jerem Kaplan Paramount PicturesMedia Best of Benzinga