Why Amazon & Roku Won't Achieve A 'Significant Lead' Even If Apple's Streaming Service Gets Delayed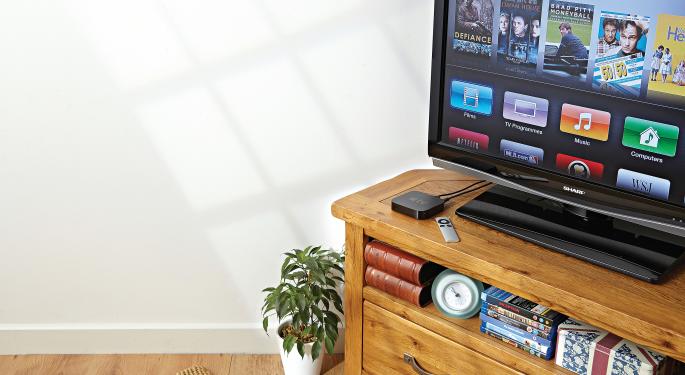 With reports emerging that Apple Inc. (NASDAQ: AAPL) might be planning to delay the launch of its video streaming service and having no plans to upgrade the Apple TV soon, many Apple fans are feeling disappointed.
Sascha Segan, pcmag.com lead analyst, was on CNBC Thursday to discuss what impact will this have on the company in the short-term.
Bumps Along The Way
Segan was asked that how will Apple not upgrading its Apple TV and launching its video streaming service anytime soon affect the company in the short-term. He replied, "What we're seeing is that Apple wants to sync up the new hardware with its streaming service, so that people can cut their cable bundles and just sign up with Apple, but they've had some bumps in their negotiations with the content providers."
Related Link: How Will Apple's Streaming Music Service Compare?
He continued, "They want to include live local television stations on the box. That's very difficult to negotiate. So, that's probably going to have to wait til the fall. I don't think the three-month gap is really going to help Roku or Amazon or anyone like that achieve a significant lead because they're all having the same difficult negotiations with these content providers."
A Dangerous Shift
On whether sales of Mac will be affected by video and over-the-top streaming services gaining traction, Segan said, "Well, what you are definitely going to see is people shifting away from watching television on their computers to watching television on their TVs. The whole watching TV on a computer thing was never optimal and was always sort of intermediate step anyway."
"So, the real question for Apple is this is going to move to Apple being more of a services-based company. It's always been a hardware-focused company rather than a services-focused company and that's a little bit of a dangerous shift in terms of their business model," Segan concluded.
Posted-In: Apple TV CNBC PCMag.com Roku Sascha SeganTop Stories Tech Media Best of Benzinga
View Comments and Join the Discussion!