Winnebago Industries CEO On Fuel Efficiency And Environmental Consciousness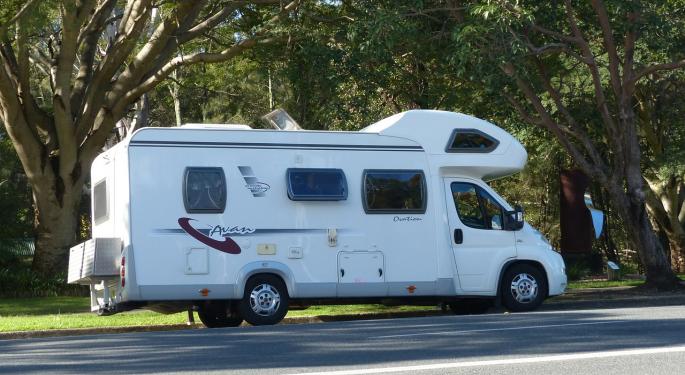 Winnebago Industries, Inc. (NYSE: WGO) CEO Randy Potts, was on CNBC Wednesday to discuss how lower fuel prices are impacting the company and how it deals with concerns from environmentalists.
Lower Fuel Prices Help
Potts was asked how lower fuel prices impact the company. He replied, "It helps in many ways obviously. I mean, it lowers the cost of ownership. It lowers the cost of materials. It lowers the cost of freight – inbound, outbound. I mean, it's just a positive any way you look at it for our business."
Related Link: Silicon Valley Venture Capitalists Predict The Future,/p>
Fuel Efficiency
He was also asked about the fuel efficiency of RVs manufactured by the company, to which he replied, "It's a very broad market. To a customer that is interested in buying a $400,000 motorhome, the price of fuel really isn't a factor. So, I mean, we go all the way to that range, all the way down to a smaller coach […] that can get over 20 miles a gallon – I think, up to 24 on a diesel version of that."
No Interaction With Environmentalists
On the concerns that environmentalist might have regarding RVs, Potts said, "We really don't get any interaction with environmentalists. It is a relatively small industry, it's a very broad industry and it's an outdoors oriented industry. I think, for the most part people that use RVs are environmentally conscious in most ways.
"Yeah, a vehicle that uses a lot of fuel to drive across the country isn't as environmentally friendly as other modes of transportation, but they don't put on a lot of miles. I think, typically we see a motorized RV owner puts on about 5,000 miles a year," Potts concluded.
Image Credit: Public Domain
View Comments and Join the Discussion!
Posted-In: CNBC Randy PottsTravel Media