Ryanair CEO: Weak Demand In 2014, 'Remarkably Strong' 2015 In Europe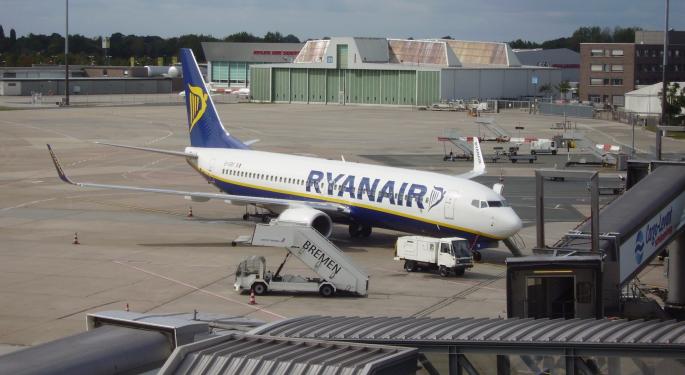 Ryanair Holdings plc (ADR) (NASDAQ: RYAAY) reported its full-year 2015 earnings on Tuesday. EPS for the year came at €0.63 on revenue of €5.66 billion. The Street was expecting EPS of €0.62 on revenue of €5.65 billion.
Michael O'Leary, Ryanair CEO, was on CNBC following the earnings release to weigh in on the results.
Customer Demand Strong
"Customer demand last year was weak and it's been remarkably strong this year in Europe," O'Leary said.
"I mean, driven by the fact that we have been moving into primary airports, taking huge swathes of traffic off legacy carriers in Europe at much lower fares."
Related Link: Ryanair Posts Higher FY Profit
Strongly Hedged Against Rising Dollar
O'Leary was asked how a stronger dollar is impacting the business of the company. He replied, "It's not great for our business in general terms if you are trading in euros because you are buying your aircraft, your fuel, and maintenance generally in dollars.
"But, we are very strongly hedged out for about the next two years at about $1.35 to euros. So, we are in great shape."
Huge Savings From Fuel In 2016
On fuel charges for the company remaining flat even though oil prices have come down, O'Leary said, "They are, but fuel has fallen significantly. Most of the European airlines tend to be hedged typically on a 12-month rolling program.
"So, as we move out over the rest of 2015 into early 2016, we start to pick up huge savings from the current fall in oil price," he concluded.
Image Credit: Public Domain
Posted-In: Michael O'LearyCNBC Travel Media
View Comments and Join the Discussion!