IHS Defends Apple Watch Uniqueness, Discusses Low Ratio Of Hardware To Retail Price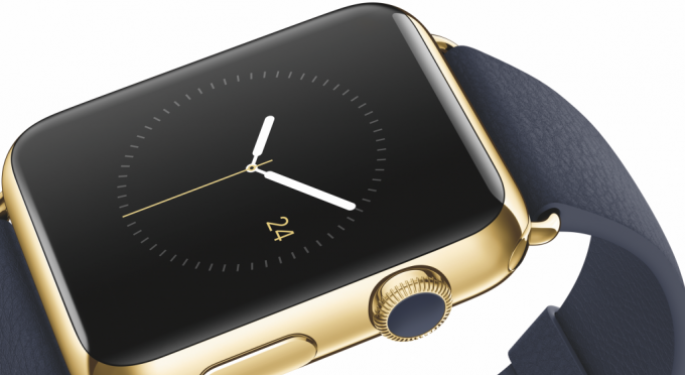 IHS Technology recently published a report in which it argued that the Apple Watch has the lowest ratio of hardware costs to retail price than any other Apple Inc. (NASDAQ: AAPL) product.
Wayne Lam, senior analyst for IHS Technology, was on CNBC Monday to discuss how the firm came at figure of $84 for the hardware costs of Apple Watch.
The Highlight: Unique Design
"These are just a snapshot of the hardware cost, actual physical component cost," Lam said. "So, there are other costs that are absolutely going to be baked in. We don't want to use this as an indicator as to the gross margins of what Apple gets in terms of the product, but what we found is a really unique design."
He explained, "The design of the Apple Watch, it differs quite a bit from other smart watches, especially from the Android space and it [...] shares more in common with a implantable medical devices [sic.] than it does with consumer devices.
Related Link: Are Apple Watch Sales Suffering From Inventory And Supply Issues?
"So, really novel designs, really interesting cost points. Lots of emphasis and attention towards user interfaces, lots of costs around the display, sensors and of course enclosure. And this is the lowest model of course – the stainless steel model and the gold model would be substantially higher in terms of cost."
The Difference
Lam was asked how different the components of Apple Watch are from components of other smart wearables in the market. He replied, "I think its philosophy and design."
He concluded, "The other smartwatches on the market right now are really taking smartphone design and shrinking it to your wrist, whereas the Apple design is more a piece of fine jewelry."
Posted-In: Android Apple Watch CNBC IHS Technology Wayne LamTech Media
View Comments and Join the Discussion!