Waste Management, Commodity Price Burden And The Efficiency Need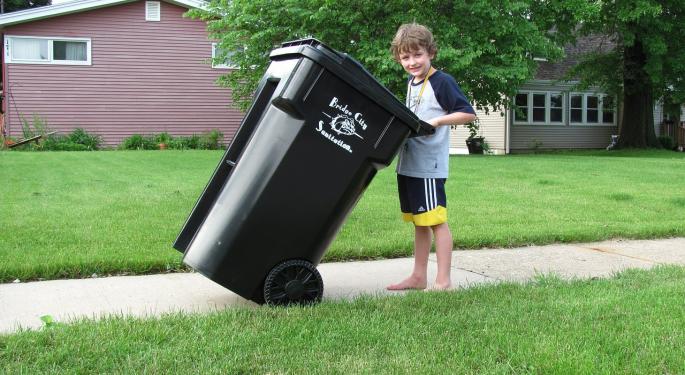 Waste Management, Inc. (NYSE: WM) reported worse-than-expected first quarter earnings on Wednesday. Revenue for the company was down from $3.4 billion to $3 billion year-over-year, while the diluted EPS came in at a negative $0.28, compared to the $0.49 it reported for the same quarter last year.
David Steiner, Waste Management CEO and president, was on CNBC Thursday to discuss the company's results and future strategy.
Why The Drop In Revenue?
"Obviously, we had the divestiture, so we had lower revenues from that," Steiner said. "And then we had low commodity prices in recycling and then our fuel surcharge was down because of lower fuel costs.
"That's a good thing for us; that actually made us about $0.02 in the quarter. And then we had foreign currency exchange from our Canadian operations," Steiner explained.
Related Link: Progressive Waste Solutions Ltd. Reports Results
Strategy For Recovery
Steiner was asked about the strategy he is adopting for the current difficult times for the company. He replied, "We've got to attack the recycling issue from both sides. First off, we need to get to the customers and let them know that, at this point in time with low commodity prices, we can't bear all the burden of low commodity prices.
"So, we have to share that with our customers. And then we have got to go and make our plant more efficient. We've got to reduce our operating costs, and we were very successful in that this quarter. We saved about 20 million dollars by improving our plants; we can do more of that," he said.
"We'll consolidate some plants and so we'll do what we need to do from a business point of view. We also need to go to our customers and say, 'Look, we need to share some of this pain,'" Steiner concluded.

Image Credit: Public Domain
Posted-In: CNBC David SteinerMedia
View Comments and Join the Discussion!