Why Apple Won't Buy Tesla, But Make A 'Strategic Investment' In It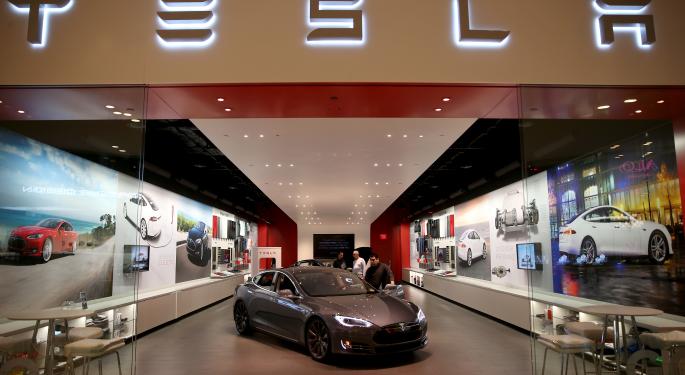 Apple Inc. (NASDAQ: AAPL) CEO Tim Cook coyly avoided the question at Apple's media event on March 9 that most people wanted him to answer -- will Apple be interested in buying Tesla Motors Inc (NASDAQ: TSLA).
Ross Gerber, CEO of Gerber Kawasaki, which holds a large stake in both Apple and Tesla was on CNBC Wednesday to discuss why he feels Apple won't be buying Tesla, but can make a strategic investment in it.
Apple Wants To Own All The Screens
"The battery is really the story," Gerber said. "What I see Apple doing is making an investment into the battery factory and helping Tesla raise capital. This is a big thing for Tesla because they need to spend billions more to advance the battery development in their new factory."
"So what Apple wants to do is own every screen everywhere, whether you are on a plane, in your car, on your phone, on your watch, whatever. They want to own all the screens in your house -- Apple TV, for example -- and the Tesla has a beautiful screen, just waiting for Apple's software. And so I see a synergy here, I see an opportunity for a deal, but I don't see it as an acquisition."
He also remarked that, "Apple will not be getting in to the car business; the margins are not close to their normal margins."
Strategic Investment
Gerber was asked why Cook didn't deny the question precisely instead of being coy about it. He replied, "I think that's because we might see a strategic investment from Apple into Tesla. Not buying the whole company, but maybe buying let's say $4 or $5 billion worth of Tesla, let's say 15 or 20 percent, 10 percent, somewhere in there, just so that they can own the technology for the batteries, help them the capital they need to advance the process."
View Comments and Join the Discussion!
Posted-In: CNBC Gerber Kawasaki Ross GerberMedia Best of Benzinga