The Time Is Not Right For The Fed To Raise Rates: Former Treasury Secretary Explains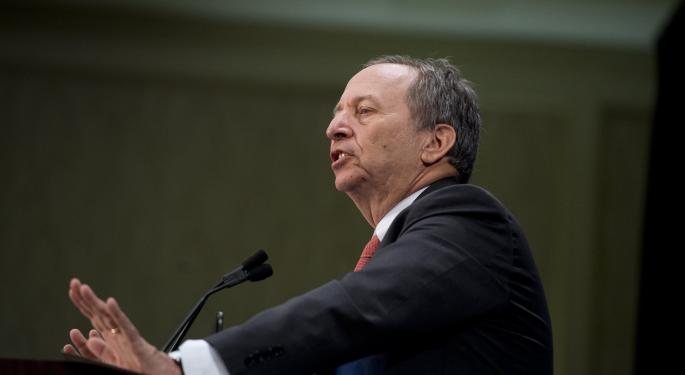 While most analysts and money managers expect the Federal Reserve to raise rates, even by 25 basis points this year, former Treasury Secretary and Harvard President Emeritus Lawrence Summers thinks the time is still not right.
Summers was on CNBC recently discussing why raising rates early could be devastating for the economy.
Lessons From Other Economies
"Here's what we do know: the Fed was itching to get out of abnormal monetary conditions in 1937 and it produced a recession that in many ways made the depression 'great,'" Summers said.
"In Japan, on a number of occasions, they wanted to declare victory and get off the zero rate; every time, it ended badly. In Europe, in 2011, they felt a need to normalize monetary conditions, even though inflation hadn't taken off, and they ended up regretting it."
Errors In Both Directions
He continued, "The essence of policy making is balancing risks. And if inflation were to get to 2 percent, if it were to get to 2.3 percent, that's not so bad for a variety of reasons. And that's something that's easily contained.
"On the other hand, if we made a mistake and the economy tipped over toward deflation, what we have seen in Europe, what we have seen in Japan, suggests that could be catastrophic for a long time. So, we always need to worry about errors in both directions."
Related Link: Warren Buffett Thinks The Fed Shouldn't Raise Rates In 2015
Reasons To Worry
"The more serious error in my judgement would be the errors of hitting the brakes too hard and sending the economy into a skid," Summers said.
"Part of the reason I am so worried or alarmed is that if you look historically, the Fed has to bring down rates by 300 basis points to combat recession about every seven years on average. We don't have anything like that kind of room. And so that's why it's particularly important that we keep the economy going on a reasonable growth trajectory."
Posted-In: CNBC Federal Reserve Lawrence SummersCNBC Federal Reserve Media Best of Benzinga
View Comments and Join the Discussion!