Why A Merger Is Not A Solution For The Growing Apple-Tesla Rivalry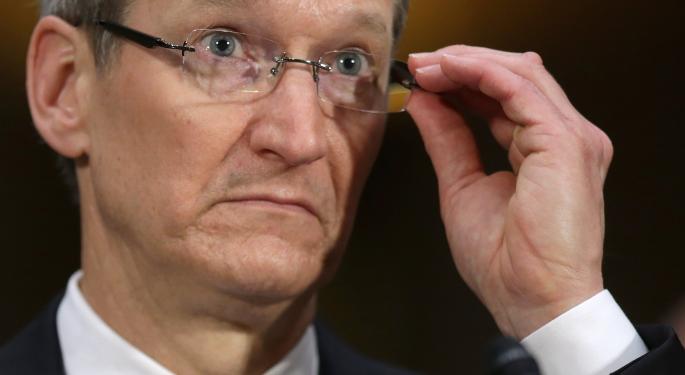 The rumors of rivalry brewing between two of Silicon Valley's most successful companies, Apple Inc. (NASDAQ: AAPL) and Tesla Motors Inc (NASDAQ: TSLA), are increasing by the day.
As both companies are battling with each other for talent, it seems the war is spreading to other areas as well.
Dan Costa, editor-in-chief of PC Magazine, was on CNBC recently to discuss the rivalry and the prospects of the two companies merging.
What Could Apple Be Developing Right Now That Tesla Wants?
"It's a tantalizing prospect to imagine Apple building an electronic car to go head to head with Tesla, but I don't think that's happening right now," Costa said.
"There have been a few reports; there have been a few teases. But the bottom line is that Apple actually has a lot to learn from Tesla. Apple wants to create an innovative in-car experience and Tesla has already done that.
"Apple wants to do it, of course, in partnership with current vehicle manufacturers, but I can bet they are looking at Tesla to find – steal – ideas for what the next generation car interface is going to look like."
Related Link: Apple Pay Takes Flight: JetBlue Is The First Airline To Accept Payments
How Far Fetched Is The Idea Of An Apple, Tesla Merger?
"It's an amazing concept. I love thinking about it," Costa replied.
"Kind of reminds me of Google buying Nest and getting Tony Fadell's talent to head up their connected home and smart home division.
"It'd be amazing to think about what these two companies could do together, and at the same time, they have very different cultures."
He continued, "I think Tim Cook and Elon Musk have very different management styles and very different temperaments.
"I find it hard to believe that that could actually work out. But definitely in terms of cooperation, you could see that they are working on some of the same projects, but they have got their own areas of expertise. So, I think they could probably do some exciting things."
Posted-In: CNBC Dan Costa Elon Musk PC Magazine Silicon ValleyCNBC Tech Media Best of Benzinga
View Comments and Join the Discussion!