Henry Blodget: Starboard's Suggestions To Yahoo Make Sense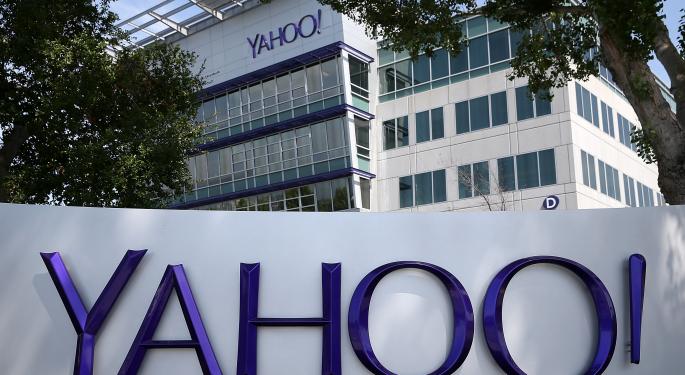 One of the most vocal shareholders of Yahoo! Inc. (NASDAQ: YHOO), Starboard Value LP, sent a new letter to the company Thursday, raising concerns over news that Yahoo is looking to make a big-ticket acquisitions.
Business Insider editor-in-chief and CEO Henry Blodget was on CNBC to discuss if the suggestions made by Starboard to Yahoo makes sense.
Related Link: Tigress Financial Partners CIO: 'A Yahoo-Twitter Combination Does Not Make Sense'
Letter Reveals Some 'Good Ideas'
"First, I'll just say I am a contributor to Yahoo -- happy to work with them. But I would say, 'Look, there are some good ideas in the letter that are being espoused,'" Blodget said.
"I don't think it makes sense for Yahoo to be buying a cable network, that kind of thing. So, they are kind of 'shoot that down.' The idea [is] that you have to improve profitability at this stage of Yahoo's growth. What Marissa Mayer and her team are trying to do is starting to invest back in the company in areas where they feel can fuel future growth."
Yahoo Has An Uphill Climb, Not Quickly Surmounted
He continued, "You can't wave a wand and fix a company that was in that state in a year or two, just not going to happen. So you have to invest."
"So, this is where I get frustrated; with the reality being a public company is: someone will grab a small piece of the company -- like Starboard -- and start waving that big club at you, threatening."
Blodget agreed with Starboard's suggestion that Yahoo must focus on its core business, saying, "I do think that what's Starboard is recommending, which is -- effectively -- we take this huge chunk of money that's Alibaba and Yahoo! Japan. Let's get rid of them; Let's focus on the core business. It'll isolate it; it'll show everybody and expose […] that's good."
"Focus is good for discipline; that makes sense," Blodget concluded.
View Comments and Join the Discussion!
Posted-In: Business Insider CNBC Henry Blodget Marissa Mayer Starboard Value LPMedia