The Best Performing Hedge Funds Of 2014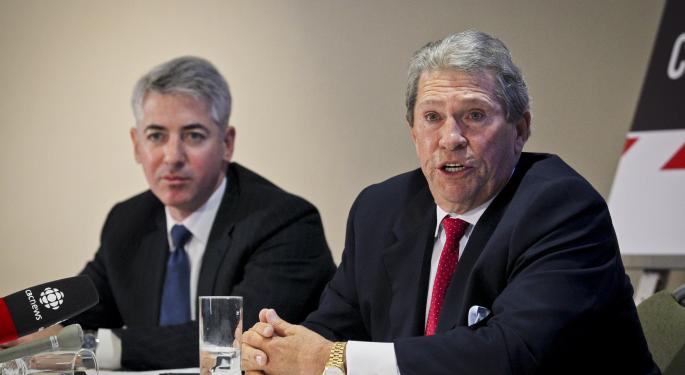 Equity hedge funds had a lackluster year, yet when Bloomberg released its list of 100 Top Performing Large Hedge Funds (those with assets under management equal or above $1 billion), the No. 1 slot was taken by Bill Ackman's Pershing Square Capital, a hedge fund that deals primarily in equity and derivatives.
In an article published on Bloomberg's website, Anthony Effinger and Katherine Burton wrote, "Ackman was an outlier. Most managers on the list were debt traders, including a dozen funds dealing in bonds backed by mortgages and other assets, or quants -- investors who use mathematical models to trade a variety of securities."
Related Link: Hedge funds And Alibaba: Who's Been Bullish
Any Trends In The List?
Burton and Columbia University's Fabio Savoldelli were on Bloomberg TV to discuss the list.
"This year actually compared to last year, there were funds [that] did better," Burton said.
"[It's] surprising that overall in the industry, the average return was about 2 percent in the first 10 months, which is not really that great. The funds that did best were fixed-income […] with a lot of mortgage people doing particularly well and also quant funds, so it was the computer beating the man."
Savoldelli added to that saying, "It's been a lot of debt, a lot of debt trades did very very well. But actually of the traditional macro funds, the first one comes up only in like, in somewhere it lies on 20th place and you are seeing AHL, you are seeing a lot of quantitatively driven funds including the number two fund, Quantedge […] with an economic twist [types of quant fund that did well], which I think, is very cool."
He highlighted that the markets in 2014 "damaged the psyche of the big players, the Tudors and some of the large macro funds, all of whom are absent from anywhere on the list."
Related Link: Hedge Fund Manager Guy Spier Talks Letter Writing And Warren Buffett
The Top 10
1. Pershing Square, Bill Ackman Pershing Square Capital Mgmt.
2. Quantedge Global, Team managed Quantedge Capital
3. STS Partners, Michael Craig-Scheckman, Scott Burg Deer Park Road
4. Hildene Opportunities, Brett Jefferson Hildene Capital Mgmt.
5. AHL Diversified, Tim Wong, Matthew Sargaison AHL Partners
6. MBS Agency, William Mok Structured Portfolio Mgmt.
7. Citadel Tactical Trading, Team managed Citadel Advisors
8. Stratus, Team managed Capital Fund Mgmt.
9. Citadel Global Equities, Team managed Citadel Advisors
10. Dymon Asia Macro, Danny Yong Dymon Asia Capital
View Comments and Join the Discussion!
Posted-In: AHL Diversified Anthony Effinger Bill Ackman Bloomberg Brett JeffersonHedge Funds Media General Best of Benzinga