Ken Chenault Says Apple Pay Needs Ubiquity To Be Very Successful, Compares Bitcoin To Napster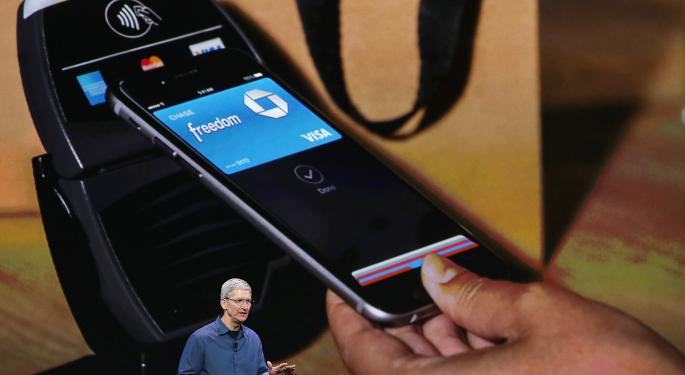 There is little doubt that American Express Company (NYSE: AXP) has held on its own in the rapidly-changing world of payment processing and transactions. However, with more unconventional methods like bitcoins and mobile payments coming into the game, will American Express still be a dominant player in the future?
Ken Chenault, CEO of American Express, was on CNBC to answer that question and the company's connection with Apple Inc.'s (NASDAQ: AAPL) Apple Pay.
"I think, here is the point, the reality is we compete with any form of payments. But I think what's critical is people really do get confused about bitcoin, the credit charge cards, sector and cash and checks. So, let me just throw a few figures out: the spending on credit and charge cards is $6 trillion, the spending outside of credit and charge on cash, checks and debit is $25 trillion," Chenault said.
Related Link: Morgan Stanley: Wearable Technology A Potential $1.6 Trillion Business
"So, everyone focuses on this displacement of bitcoin and the credit card industry. Here is the other point -- there is a reason why credit cards were invented. People wanted to defer payment. They wanted to borrow and so the reality is that customers have different payment needs."
Chenault said the analogy he would use for bitcoin and alternative currencies is "Napster and iTunes. I don't know how this going to evolve, but at the end of the day, I think there's a lot of room for growth. Room for a lot of players."
When asked about how important was the compatibility with Apple Pay right from the start for American Express, Chenault said, "Well, I think what's really important for me and business in general is you got to innovate and you got to be willing to move forward and I have been a believer for long time that form factors are irrelevant. It all goes to what customer preferences are. I don't care if plastic goes away, but what I like about Apple Pay is that it's simple, it's easy to use. Now what's going to be critical is merchant adoption because they need ubiquity for them to be very successful."
Posted-In: Apple Pay Bitcoin Ken ChenaultCNBC Media Best of Benzinga
View Comments and Join the Discussion!