Why It's Going To Be Very Strange To Hear From Steve Jobs Right Now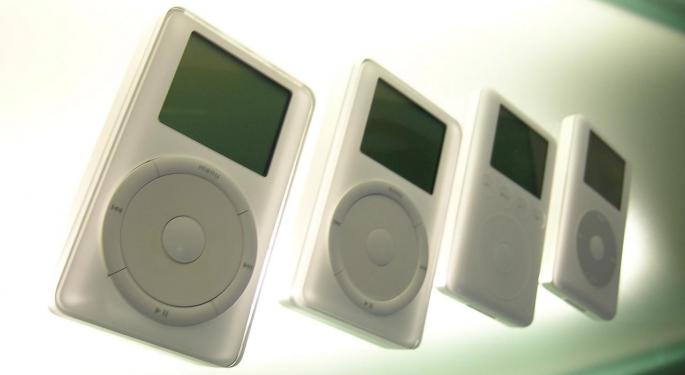 After nearly a decade of being filed, a period in which Apple Inc. (NASDAQ: AAPL) not only became the largest tech company but also the most valuable company in the world, a case over its iPod music players is headed for trial Tuesday in California. However, the highlight of the case is the deposition given by Apple founder Steve Jobs a few months before his death.
Editor-in-chief of PC Magazine, Dan Costa, was recently on CNBC to discuss about the case and how digital music industry has changed during the last decade.
"It's really pretty extraordinary what's happened in the last 10 years and Apple was right there in the beginning of it. This case actually dates from that first digital transition. But we've seen collapse of the album, that's not important anymore, Apple had a lot to do with that, we've seen the collapse of the traditional recording industry, the traditional album model. So it's really come a long way," Costa said.
As Bloomberg reported, "Customers of rival music players marred this shiny prospect for Apple and Jobs... by filing a class-action lawsuit, claiming the company tried to maintain a monopoly over online music by forcing iPod buyers to purchase content only from its iTunes store."
Related Link: Jim Cramer Says 'Machines' Caused Apple's Big Drop
When asked about Jobs testimony in this case, Costa said, "It's going to be very strange to hear from [Steve Jobs] at this late date and I am sure this not how he would have liked to come back, but he is going to wind up talking about the iPod […] there was a time when carrying your entire music library in your pocket was pretty revolutionary and Apple dominated the market at that time. They did have a monopoly-like power" on the software and hardware side.
Costa explained that "it's a three-window this case is involved, between 2006 and 2009." He said Apple has moved away from the music model it used during that time, as it now uses a more subscription-based model.
Apple traded recently at $115.19, nearly unchanged.
Image credit: raneko, Flickr
Posted-In: Dan Costa PC Magazine Steve JobsCNBC Tech Media Best of Benzinga
View Comments and Join the Discussion!