Apple And Wall Street Fade Carl Icahn In The Short-Term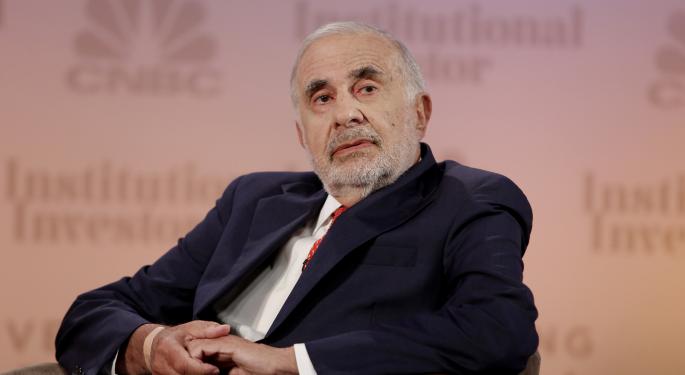 There is no doubt that Carl Icahn has been spot on in his assessment of the value in the shares of Apple Inc. (NASDAQ: AAPL). On August 13, 2013, he announced to the world that he was targeting the issue in his next activist campaign.
Jumping On The Icahn Bandwagon
Investors that heeded his call and entered the issue on the day of the announcement would be sitting on a tidy profit. The closing price on August 13 was $69.94; the issue now trades north of $100.00.
If one had been more patient, the issue did retreat the $64.00 level before resuming its ascent. Icahn gave his followers another opportunity to purchase Apple shares when he disclosed he added to his position on October 24, 2013. At that time, he urged the company to pursue an aggressive buyback program. Apple ended the session that day at $75.99.
Related Link: Is Carl Icahn Good For Apple?
Another Chance To Hitch A Ride
He made his boldest call on January 28, 2014, when he raised his stake in the company after an earnings miss on January 27. He announced that he had purchased another $500 million worth of Apple shares, stating they were "very cheap." His entry at that time was below his previous purchase, showing his conviction by adding at lower prices instead of higher prices.
Taking To The Airwaves
Icahn had been relatively quiet on the issue until his CNBC appearance on Thursday. During the interview, he outlined his thesis on why the shares were trading at "half price" value. He also discussed the letter he sent Apple CEO Tim Cook urging him to buyback even more of its stock. He reiterated his $203 price for Apple based on projected earnings.
Pre-Appearance Rally
There was a rally in Apple shares preceding his CNBC appearance. Despite a cratering market it chugged higher, even after opening almost $0.80 higher than its previous day's close ($101.54 versus $100.80). It peaked at $102.38 roughly 30 minutes before his slated appearance, which may have been due to short-term traders avoiding the short side and momentum players pushing it higher.
The Aftermath
By the time Icahn appeared on CNBC, Apple had already declined to the $102.00. From then, no matter what bullish comment he made, Apple continued to decline. One reason for the decline may been the traders buying ahead of his interview, anticipating another leg higher to new all-time highs ($103.74) began to regret their earlier purchases.
A swooning broad market may have added additional selling pressure on the issue. The end result was a decline to $100.61 before ending the session at $101.02; another instance of "buy the rumor" and "sell the news," or in this instance "buy the pre-appearance CNBC" and "sell the actual CNBC appearance."
Looking Forward
In Friday's session, Apple is attempting to lead the market higher. After finding support just under Thursday's low ($100.60), reaching $100.30, it was approaching the $102.00 level at time of writing. While still a bargain based on Icahn's target of $203.00, Apple must clear the multiple highs around $103.00 level and its all-time high of $103.74 before the path to $203.00 is cleared.
Tune in every morning, Monday-Friday, from 8-9:45 AM EST to hear Joel Elconin and Dennis Dick discuss what's moving the markets and why on Benzinga's #PreMarket Prep.
Posted-In: Apple Carl IcahnCNBC Technicals Intraday Update Media Trading Ideas Best of Benzinga
View Comments and Join the Discussion!