BlogHer CEO Elisa Camahort Page Helps Writers Earn Money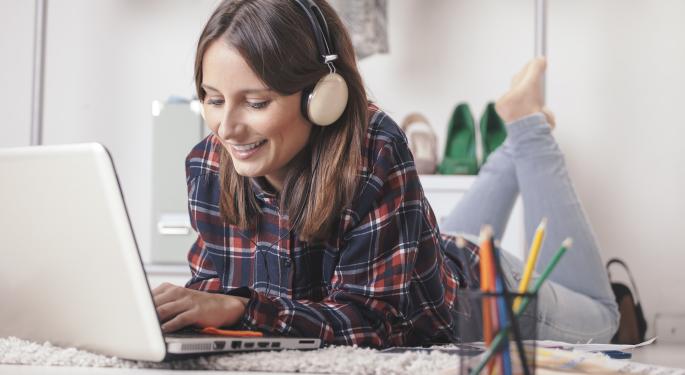 BlogHer co-founder and CEO Elisa Camahort Page is helping online writers everywhere earn more money through a bit of Internet fame and marketing flair.
She discussed her enterprise on CNBC's Squawk Box Thursday.
"We're a network of 3,000 blogs and over 12,000 social profiles across Twitter, Pinterest, Instagram, Facebook and any new tool that comes along as well," said Page.
She commented that they drive advertising, content production, promotions and a variety of other different ways that they help writers get paid for their work. That even includes syndicated editorial content.
Related: ETFs For March Madness (PBS, SOCL, BJK)
"For Pinterest, for example, we can have influencers who have a tremendous following on Pinterest create boards that are about a brand, for the brand; they can write about the various things they're finding on Pinterest and link to them," said Page.
"So there are leveraging. We're not paying them to pin, because that would violate the terms of service, but instead they are leveraging what's on Pinterest to get paid more."
Page said that all paid promotions are disclosed, and there's no ambiguity about what's sponsored and what isn't posted. She emphasized that it's still all about the writer's blog and experience. They work with bloggers across every platform.
She also commented on what's been perceived as a decrease in Facebook's effectiveness as an outreach tool.
"Here's what I think is happening with Facebook - is that we're looking for a way to carve time and space out away from the constant flood of information and emotion that's on the Internet, and a lot of what I see happening is very interesting on Facebook is in private groups. So it's not visible to the naked eye.
"It's going to make it harder for companies and brands to participate and find their costumers. Facebook is increasingly wanting companies to pay as opposed to organically [reaching people]."
 Jason Cunningham had no position with the mentioned entities while writing this article. Visit Jason on Twitter at @JasonCunningham.
Posted-In: BlogHer CNBCFutures Startups Hot Markets Tech Media Best of Benzinga
View Comments and Join the Discussion!