Herb Greenberg Thinks Green Mountain Isn't Much Without Coke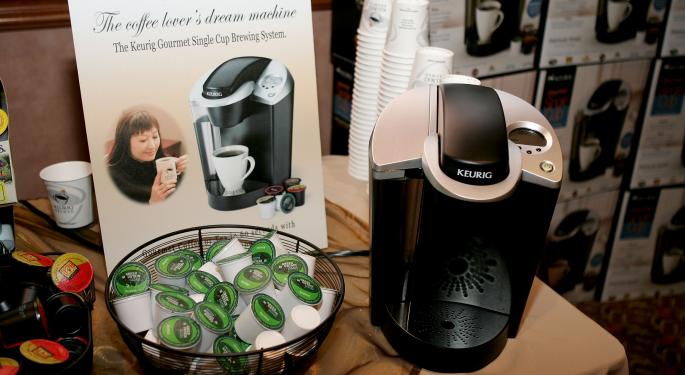 SodaStream (NASDAQ: SODA), who innovated the soda market with their do-it-yourself machines, has been shaken by news that another carbonated beverage company, Coca-Cola (NYSE: KO), will be teaming up with Green Mountain (NASDAQ: GMCR), famous for their single-serving coffee machines, to use Coke products in their upcoming Keurig Cold machines.
Financial journalist and commentator Herb Greenberg commented on Green Mountain's stock after news of their partnership with Coca-Cola Coca-Cola caused a trading upset for SodaStream on CNBC Thursday.
"I've certainly been wrong on what I thought the stock would do. I think I've been absolutely right in what I thought would happen to the business because had this deal not been announced I think we could all - we all sort of realized that Green Mountain Stock probably would of tanked because the numbers were so, so awful," said Greenberg.
"And, and so I think this is the old - if you look at what the company said; the kind of forecast they gave, you know, in 2016 and on for quote on quote the next decade, it's sort of a Hail Mary wing and a prayer forecast that everything goes right. Maybe it will; maybe it won't."
Related: Blame It On Coca-Cola: Green Mountain Up, SodaStream Down
SodaStream responded to the future competition that their partnership poses by saying that they view the announcement "as further recognition that customer carbonation is the future of the $260 billion at-home carbonated beverage industry."
"For them, getting the Coke deal, this is a, this is a cheap call for Coke, it's a great, you know, headline for Green Mountain at this point, but the fact of the matter is…the business of Green Mountain without this deal is not that great. It's going in the wrong direction," said Greenberg.
 Jason Cunningham had no position with the mentioned entities while writing this article. Visit Jason on Twitter at @JasonCunningham and @Benzinga.
View Comments and Join the Discussion!
Posted-In: CNBC CNBC Herb GreenbergM&A News Pre-Market Outlook Media Best of Benzinga