eBay CEO John Donahoe Wants To Keep PayPal In The Family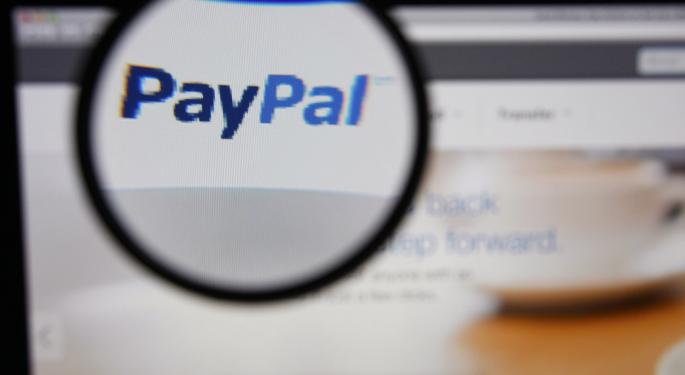 John Donahoe, president and CEO of eBay (NASDAQ: EBAY), went over the value of the synergies between eBay and PayPal in response to activist investor Carl Icahn's suggestion to have the latter separate from its parent company with claims that it'll accelerate PayPal's growth, on CNBC's Squawk on the Street Thursday morning.
In regards to spinning PayPal, Donahoe said that both him and the board of directors at eBay routinely access all alternatives when it comes to increasing value.
"There has not been anyone else that's created another PayPal since PayPal was created. And that's because commerce and payments are converging into one thing. A payments network needs a commerce network like eBay." said Donahoe.
"It's noteworthy that most of the large commerce companies are getting into payments and some of the payments companies are getting into, ah, commerce."
He sees eBay accelerating PayPal's growth, specifically in mobile, where PayPal is the leader in payments volume, which started with eBay mobile services. Donahoe stated that three years ago PayPal did $600 million in mobile payments, with 80 percent coming from eBay. Today it's $27 billion dollars, a 45 percent increase.
Related: Carl Icahn Displays Interest In eBay; Shares Surge In After Market Trading
According to Donahoe, PayPal's competitive advantage comes from eBay's launching pad, which PayPal has expanded off of globally. He said that as PayPal crosses boarders, it uses eBay costumers as its base.
Both companies are also moving offline together to create a "more power position," he said.
"If and when synergies run their course, we'll be objective, just like we were with Skype," said Donahoe.
Jason Cunningham had no position with the mentioned entities while writing this article. Visit Jason on Twitter at @JasonCunningham and @Benzinga.
Posted-In: Carl Icahn CNBC CNBC CNBC's Squawk on the Street John DonahoeM&A Tech Media Best of Benzinga
View Comments and Join the Discussion!