Apple Set to Receive Total of $929.8 Million from Samsung Following Latest Court Ruling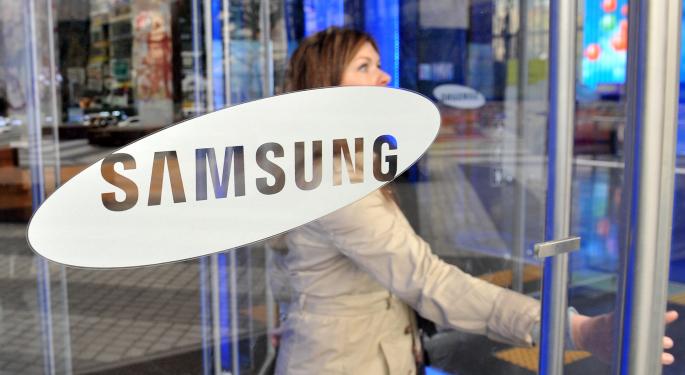 In a retrial related to damages originally awarded to Apple (NASDAQ: AAPL) last year, a San Jose, California jury Thursday ordered Samsung (OTC: SSNLF) to pay the company $290 million of the $379.8 million Apple had asked for, according to Reuters.
Samsung argued that the amount should be $52.7 million.
The finding, last year, gave Apple more than $1 billion in damages in a trial over whether Samsung had copied certain iPhone features, like "pinch and zoom." U.S. District Judge Lucy Koh, saying the jury in that trial had miscalculated the amount of the award, ordered a retrial after upholding almost $640 million of the original verdict.
Following Thursday's results, Apple has now been awarded $929.8 million in the nearly two-year-old case. In a statement, Samsung said it would appeal this latest ruling.
Jurors in the most recent trial noted that Samsung's failure to call any senior executives helped sway their decision.
One juror, Barry Goldman-Hall said, "We felt like we had way more information from Apple and we were left wondering why we hadn't gotten other information from Samsung."
Related: Apple Makes Supply Chain Adjustment to Increase Margins
Not surprisingly, following the verdict, Samsung expressed disappointment while Apple said it was grateful to the jury for its finding. Apple representative Kristin Huguet told Reuters that from the company's perspective, the results were more about protecting innovation than about a monetary award.
The New York Times noted that as Apple and Samsung wage legal battles around the world, the scales in the U.S. seemed to be tipping in Apple's favor. Although both companies were able to convince the International Trade Commission to approve bans on each other's products, the White House did strike down a ban on Apple devices without taking similar action on behalf of Samsung.
As to the potential market impact of these patent wars, Manoj Menon, partner and managing director at Frost and Sullivan, told CNBCin August that since the battles, so far at least, have been over older products and patents, the effect has been minimal.
All that may change when the next trial in the ongoing saga of Apple versus Samsung takes place in March 2014. That one involves newer products, including Samsung's Galaxy S III, and a different set of patents than from previous litigation. Judge Koh is also expected to be in charge of the upcoming case.
At the time of this writing, Jim Probasco had no position in any mentioned securities.
Posted-In: Apple Barry Goldman-Hall Ca. CNBC Frost and SullivanNews Legal Media Best of Benzinga
View Comments and Join the Discussion!