Tesla's Elon Musk: 'There's Definitely Not Gonna Be a Recall'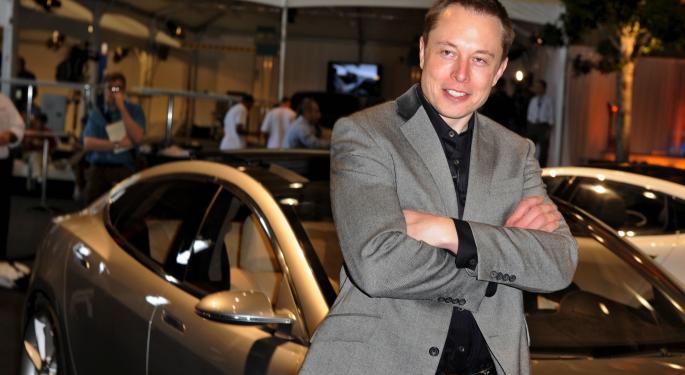 Tesla (NASDAQ: TSLA) founder and CEO Elon Musk told CNBC the automaker will not issue a recall after a third Model S caught fire.
"There's definitely not gonna be a recall," he told the network. "There's no reason for a recall."
Musk said the perception is that Tesla vehicles have a greater propensity to catch fires than other cars. In actuality, however, he thinks that couldn't be further from the truth.
The average car model has one fire for every 1,300 cars on the road. With Tesla, there has been only one fire for every 8,000 cars.
"The headlines are extremely misleading," said Musk. "We've never had a serious injury or death in any of our cars. Maybe there is a car that is as safe as a Model S, but there is certainly not a car that is safer, because you'd have to have less than zero [deaths]."
Customers Respond
How do the actual drivers of the Tesla vehicles that caught fire feel about the Model S?
According to Musk, they want a new one to replace the one that was destroyed.
"It's the best car they've ever driven," Musk said of the response he has received. "In all three cases they think they were safe from serious harm. If they had been in another car they probably would have been seriously injured."
"In (the) case of the second car," he added, "it was four times the kinetic energy that a car is supposed to be survivable at."
Related: Tesla's Model S Is A "Laptop On Four Wheels"
That accident was a multi-part crash involving an impact with a concrete wall, a seven-foot pole and a tree. The driver and passenger got out of the car and walked away. Afterwards there was a small fire.
Musk joked that this led the media to cry, "Fire!"
He wryly compared this to the Titanic;  saying that if the ship had smashed through two icebergs, crashed into a third and all the passengers got off safely and bought another ticket to ride the Titanic again, the headlines would have read, "Titanic catches fire."
"I'm sort of a perfectionist," Musk added. "Safety is our number-one priority. I drive it. My kids are in it, my friends are in it."
Musk said that if there was even the slightest chance that it was dangerous, he would issue a recall.
In fact, the company did just that earlier this year -- when Tesla encountered a possible issue with a seatbelt bracket.
With regard to the supposed comments made by actor George Clooney, Musk said that he complained a long time ago about a Tesla roadster from 2008, not the Model S.
"That'd be like saying my iPhone 1 in 2007 had a bug," Musk quipped.
Posted-In: automotive industry CNBC CNBCNews Travel Tech Media General Best of Benzinga
View Comments and Join the Discussion!