Wal-Mart CEO Bill Simon Expects A Healthy Black Friday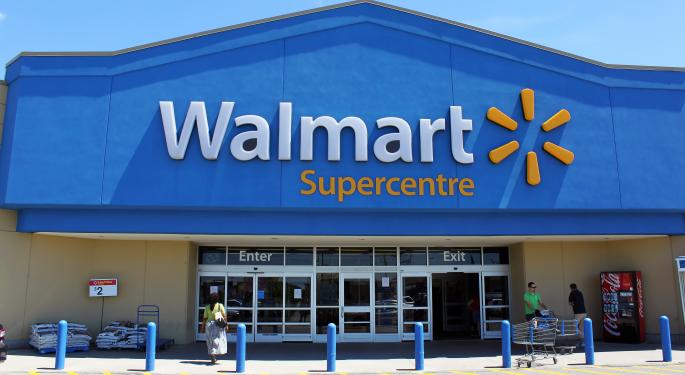 The holidays are typically a great time for retailers like Wal-Mart.
Wal-Mart (NYSE: WMT) U.S. President and CEO Bill Simon appeared on CNBC's Squawk Box to talk about the holiday season, as well as consumer awareness surrounding the budget battling ensuing in Washington D.C..
"The holiday selling season is really an exciting time as we were talking about in retail. It's sort, it's sort of the super bowl in our teams around the country are geared up for it. We bought deep for the holiday selling season," said Simon.
"Black Friday's going to be an exciting time and ah, we're gonna, we're going to have some really great pricing, best pricing of the season and it'll be the best Black Friday ever."
Recently, Wal-Mart has been mentioning some programs and events, both new and old, to help popular electronics and other popular items become more accessible and/or affordable to shoppers. These include a trade-in option for smartphones and tablets, layaway and the infamous price-slashing consumer stampede known nationally as Black Friday. 
"Mobile devices are as hot as they can be and a trade-in program has allowed customers the opportunity to trade up, and they've been excited about it and taking, taking great advantage of it," said Simon.
Related: Black Friday Stocks To Watch: Department Stores, Apparel/Footwear Retail
Simon said that he is impressed by the resilience of the consumer, despite the uncertainty that's in the economy, saying that they adapt accordingly to care for their families. 
"They do hear and they do understand, ah, for the most part what's happening in Washington and they're not happy about it. That sort of level of conversation and, and ah, and combativeness in Washington creates uncertainty in the economy and, and from a consumer's perspective as well as a business perspective, certainty is very important," noting that economic certainty allows consumer thinking to be freed-up dung the holiday season. 
Simon thinks that the temporary budget resolution that reopened the government was a pleasing result for the holiday season, and he hopes that a permanent solution will arrive in the New Year. 
Wal-Mart saw declines due to the uncertainty caused by the government shutdown around military bases and other areas with heavy government employment. 
Jason Cunningham had no position with the mentioned entities while writing this article. Visit Jason on Twitter at @JasonCunningham and @Benzinga.
Posted-In: CNBC News Futures Commodities Retail Sales Hot Markets Media Best of Benzinga
View Comments and Join the Discussion!