The Government Shut Down May Be Your Next Great Trade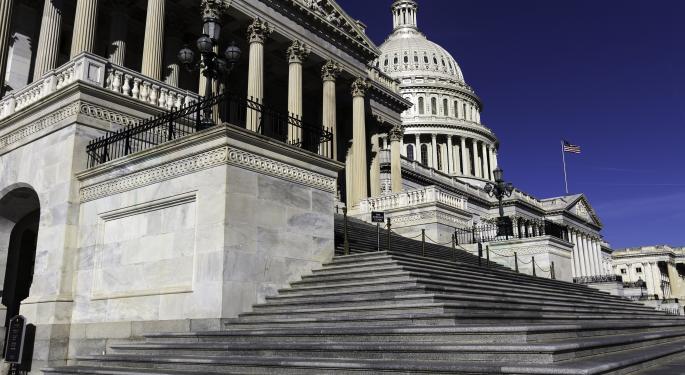 Don't know how to play the government shutdown?
If you're the type that trades on history, you buy it. You go all-in; you think of it the same way Carl Icahn thinks of Apple (NASDAQ: AAPL)—as a no-brainer because history shows that government shutdowns are great for your portfolio!
You already know how it works. Washington politicians can't come to an agreement on a budget (or much of anything else for that matter) so by law, the government has to shut down. Thursday marks day three of the shutdown and judging by Wednesday's news, don't expect a resolution any time soon.
But the shutdown hasn't rattled the markets. The S&P 500 is up fractionally since the shutdown began. The whole idea of most of the government shutting its doors seems like a recipe for economic disaster, but for traders, it's not as bad as it seems.
A quick examination of history shows that if you're a buyer of the shutdown, you stand to make some money once the government goes back to work.
Since 1981, the government has shut down 11 times and after one month following the resolution, the market was higher eight of those times. Since 1976, there have been 17 shutdowns, according to Bank of America (NYSE: BAC) Merrill Lynch. The average market gain—2.5 percent.
Related: Greenlight Capital's David Einhorn On The Climate Of The Shutdown
But as President Obama said in a CNBC interview Wednesday, this time it might be different. Past shutdowns didn't include another issue lawmakers can't agree on: the debt ceiling.
If the debt ceiling isn't raised and the government defaults, the country will almost certainly be downgraded by the ratings agencies. If that happened, don't expect Wall Street to shrug it off as it has the shutdown.
In a Bank of America Merrill Lynch report, analyst Ralph Axel said, "In the scenario where we move past the 'X' date and the Treasury misses a debt payment (maturing or coupon), we expect S&P to quickly move to the 'Selective Default' (SD) rating,"
But that, according to analysts like Goldman Sachs' (NYSE: GS) Alec Phillips, doesn't seem likely. "We remain confident that while congressional leaders have been unwilling to compromise on the less risky shutdown question, they will do what is necessary on the debt limit."
So far, the market has responded as if it's used to Washington dysfunction and that alone might limit the upside once the shutdown ends but if history is a guide, a small position in an index ETF might not be such a bad play.
Disclosure: At the time of this writing, Tim Parker was long Apple.
View Comments and Join the Discussion!
Posted-In: AppleLong Ideas Politics Economics Markets Media Trading Ideas General Best of Benzinga