Experts Say Yahoo CEO Marissa Mayer Is Doing Well Despite Harsh Odds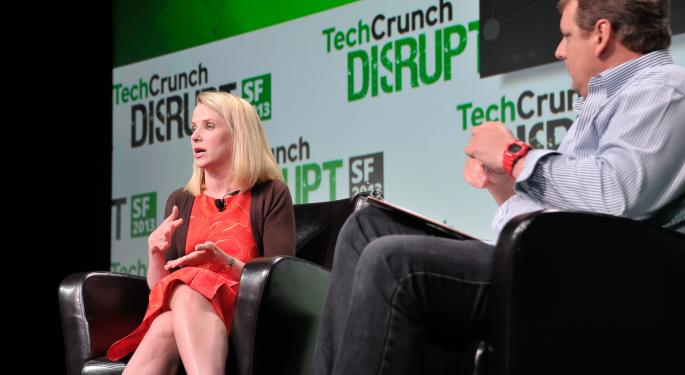 TheStreet.com's director of social media Rocco Pendola and Yale School of Management's Senior Associate Dean for Executive Programs and Lester Crown Professor in the practice of management Jeffrey Sonnenfeld discussed their positive views on Yahoo (NASDAQ: YHOO) CEO Marissa Mayer's leadership abilities, while looking at the Internet vet's lacking areas on CNBC's Squawk Box Thursday morning.
Sonnenfeld began with a strong endorsement of Mayer's abilities, calling her the real deal, despite jokes that have been thrown her way for appearing on the cover of Vogue.
Mayer's image as a business woman and computer scientist are now symbolic, he went on to say, citing that she was the first female engineer at Google (NASDAQ: GOOG), and one of their top 20 employees, leading their engineering department during the development of Google Map, Google Earth and Google Mobile among other projects.
Of Yahoo's eight CEOs in the past 19 years, Sonnenfeld called Mayer the total package.
Pendola agreed with Sonnenfeld, saying that the task she's facing might be an impossible one, but noted that they're still a major player that gets decent traffic.
"They're sort of like old reliable of the Internet. You go there, but don't really realize it. There's no passion. There's not a lot of brand loyalty. There's not a lot of reasons to get excited about Yahoo," said Pendola.
Related: All the Proof You Need That People Hate The New Yahoo Logo
Sonnenfeld then commented on the thousands of job applications Yahoo is getting weekly, somewhere around 12,000, saying that Mayer has made it a very desirable place to work, even though she cut 1,000 jobs after taking over.
Pendola said that Mayer is good at creating a spectacle and that she's great with the media, but that Yahoo's properties lack focus. He believes that they needed a seasoned media person working behind the scenes who can turn content into the story through creative advertising while making users passionate, daily visitors.
At the time of this writing, Jason Cunningham had no position with the mentioned entities. Visit Jason on Twitter @JasonCunningham.
Posted-In: CNBC CNBC CNBC's Squawk Box Jeffrey Sonnenfeld Marissa MayerHot Tech Media Best of Benzinga
View Comments and Join the Discussion!