D-Wave's CEO Goes Over His Company's First Commercial Quantum Computers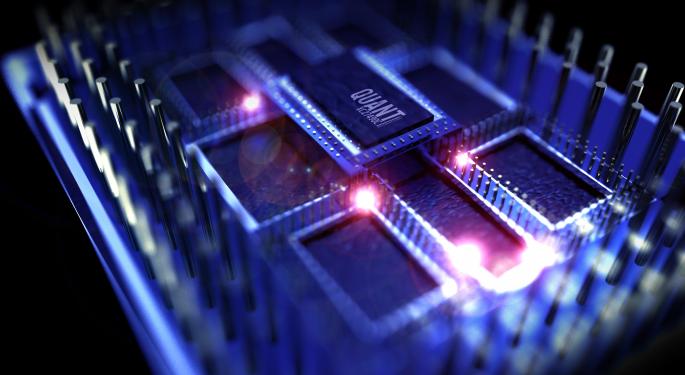 Can quantum computing revolutionize the world? D-Wave president and CEO Vern Brownell thinks so.
His company created the first and only commercial quantum computer. He appeared on CNBC's Squawk Box to talk the innovation and achievement of quantum computing.
With silicone nearing its capacity for computing, a solution is needed to handle future tech's higher limits.
"Some people say it could be five years, it could be 10 years, but it will happen, and what happens is you get down to such tiny, small increments that it'll, ah, just run out of ability to fathom," said Brownell.
Brownell noted that the company believe that they are 10 years ahead of all of their competitors, saying that all other quantum computers are labratory efforts.
"We've shipped our first computers now to Lockheed Martin (NYSE: LMT), to Google (NASDAQ: GOOG) and to NASA. So we're proud of the accomplishment," said Brownell.
Related: Benzinga Market Primer: Tuesday, September 10: US Military Strike In Syria Put On Pause
Brownell said that their chips are the size of a normal chip, about the size of a fingernail, but that the apparatus is a large 10x10x10 room that's heavy with shielding, and it runs down at a very cold temperature, at almost absolute zero (-273 c) in a magnetic vacuum. The size, he said, is all about the shielding and the cooling, which creates the rarefied environment that is needed to tap into the quantum effects.
"The exciting thing about our technology, or one of the exciting things, is that its super conductive. That means it generates no heat. So as this computer scales over time, and we could have millions and millions of bits, it adds no more heat," said Brownell.
"And that's the problem…with Moore's law, the heat generated by that. So this could be revolutionary in terms of heating and cooling and providing a green solution to data centers over time."
At the time of this writing, Jason Cunningham had no position with the mentioned entities. Visit Jason on Twitter @JasonCunningham.
Posted-In: CNBC CNBC's Squawk Box D-Wave NASACNBC Hot Tech Media Best of Benzinga
View Comments and Join the Discussion!