Bill Ackman Takes $2.2 Billion Stake In Air Products (APD)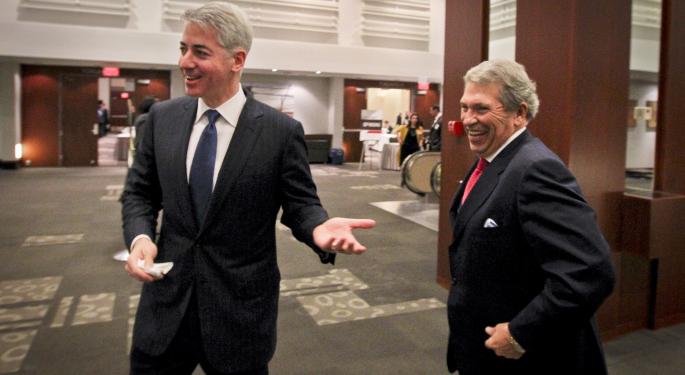 Wednesday morning, CNBC broke the news that activist investor Bill Ackman has taken a 9.8 percent stake in Air Products & Chemicals (NYSE: APD). The stock is up four percent in pre-market trading.
Ackman's Pershing Square Capital, best known for its recent battle with billionaire Carl Icahn over Herbalife (NYSE: HLF), acquired almost 10 percent of the $22 billion company saying that the stock has a large barrier to entry and as a result, has few competitors. This kind of business has served him well in the past, specifically with his bet on railroad giant, Canadian Pacific.
Ackman would only say that Pershing Square has, "some ideas on how to add value." If he uses a similar playbook to Canadian Pacific, he will likely propose new management and wage a proxy fight if the board resists.
This isn't exactly a surprise. Ackman himself said that he probably revealed too much. "I was a little too cute in my letter to investors. I didn't expect people to be running around looking for the company. I think it alerted the market."
Related: Bill Ackman Needs Herbalife to Report Disappointing Earnings Monday
Last week, Air Products adopted a poison pill plan citing unusually high trading volume. The plan gives existing shareholders the right to purchase deeply discounted new shares if a group like Pershing Square were to acquire 10 percent or more of the shares outstanding without board approval.
Air Products likely suspected that it was Ackman. After he revealed in a letter that he built up a position in a large-cap investment-grade corporation, many have speculated that it might be Air Products.
On July 25, the stock spiked higher on rumors that Ackman had taken a stake in the company. CNBC's David Faber pointed out that the street was suspecting Air Products. This was the same day that the company adopted the poison pill or what it called a "stockholder rights plan."
Ackman's desire to be in the public eye has worked against him of late. Not only does he admit that if he wouldn't have said so much in his letter, Pershing Square would have purchased more of Air Products' stock, his very public announcement of his Herbalife short attract many of Wall Street's biggest titans who went long the stock.
Ackman is now in the red on Herbalife although he said that he hasn't covered one share of his short position.
Disclosure: At the time of this writing, Tim Parker had no position in the stocks mentioned.
View Comments and Join the Discussion!
Posted-In: air products & chemicals Bill Ackman canadian pacific Carl Icahn CNBCM&A News Media Best of Benzinga