Meet The Latest Detroit Investors: The Chinese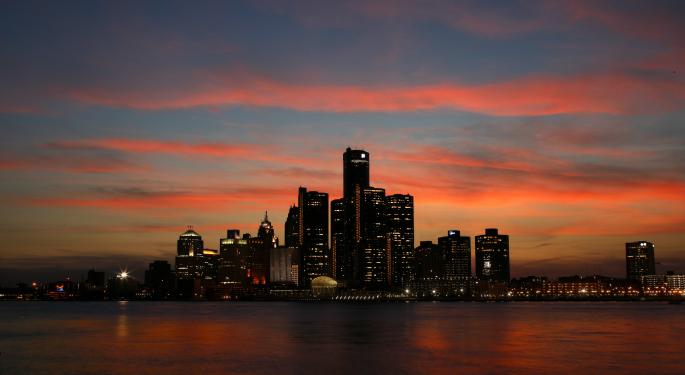 Bankruptcy? Crumbling buildings? Runaway pension obligations? That hasn't stopped the Chinese from investing in Detroit.
Quartz reported Thursday that the Chinese are flocking to the Detroit real estate market, buying any and everything they can get their hands on. It is such capital inflows that could be the key to unlocking the future for Detroit.
Eye For Profit
Despite the recent bankruptcy news, the Chinese look at Detroit as the next great place to invest in distressed assets at the bottom of a market. "Since the bankruptcy was announced on July 18, talk of snapping up Detroit housing for a pittance has picked up on Sina Weibo (link in Chinese), reports Sina Finance. And it appears to be translating into real interest."
Related: Leaders See a Bright Future For Detroit.
Further, Quartz cites a real estate broker in the Detroit suburb of Troy, who said that she has received a plethora of calls from Chinese investors looking to buy Detroit real estate. "I have people calling and saying, 'I'm serious—I wanna buy 100, 200 properties,'" she told Quartz. "They say 'We don't need to see them. Just pick the good ones.'" She further noted that a colleague of hers recently sold 30 properties to a Chinese buyer.
Auto Turnaround to Boost
A further boost will come from the resurgence of the U.S. auto industry. Ford (NYSE: F) and General Motors (NYSE: GM) both reported second quarter EPS that beat analyst estimates in a sign that the economy is improving. The companies are also racking up awards for the new cars that have come out of the revamped companies since the 2008 crisis.
Although Detroit will be looking to diversify its economy away from the auto industry, it is still largely dependent on the industry for any source of growth. A newly competitive and lean auto industry that has truly focused on making quality products can be a large difference-maker for Detroit. And there is still more potential improvement to come from the "Big Three."
The latest source of weakness for the auto makers in the U.S. has been the European auto market. Auto sales in the eurozone have fallen as the economy has endured a long and grueling recession. However, the recent reports show that both Ford and GM may have turned a corner in Europe. CNBC's Phil LeBeau noted that GM's European loss fell by 75 percent from a year ago in the second quarter (view his interview with GM CFO Dan Ammann here).
Detroit Will Be Back
The age-old adage of investing is buy low-sell high; well, Detroit has gotten about as low as it can get, and there is plenty of room to go from here.
Want to hear more about Detroit? Tune in to Marketfy's roundtable on Sunday, August 4th.
Posted-In: Earnings News Guidance Events Global Econ #s Economics Success Stories Best of Benzinga
View Comments and Join the Discussion!