Dunkin' Brands Manifests Destiny With CEO Nigel Travis (DNKN)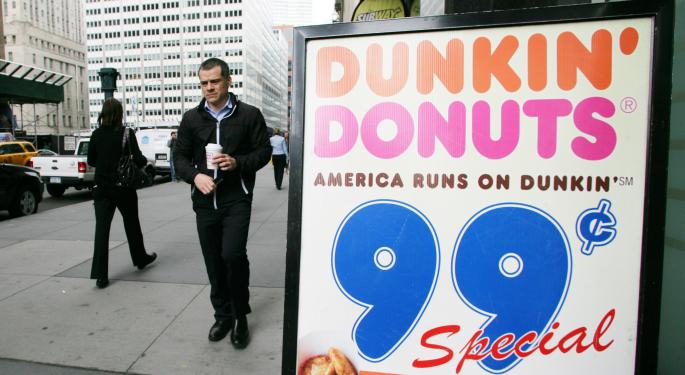 Dunkin' Brands (NASDAQ: DNKN) CEO and President Nigel Travis spoke with a sugary smile about the company's expansion into California on CNBC's Squawk Box on Thursday morning.
According to Travis, the company gets a flood of messages asking when they'll set up shop there.
He said that Dunkin' Donuts is thrilled to be expanding into California. Stores will be up in the Golden State in 2015, but smaller stores in unique locations will be around before then, Travis noted.
"We go into new areas all the time. We're successful in doing it. One of the tinges that people don't realize is that when we sell our bags of coffee in supermarkets, the number one state for doing that is California," said Travis.
Related: UPDATE: Dunkin' Brands Posts Higher Q2 Profit
The plan is to reach 1,000 stores in the state. Travis said that this type of expansion aligns with their vision of breaking away from being a regional chain in the northeast, where there are a dense number of Dunkin' Donuts stores when compared to the rest of the nation. Travis said, however, that they're not in most of the western states, and there are several that they don't plan on going to anytime soon.
Travis also didn't forget to show off the new Royal Munchkins that have been released for a limited time to celebrate the birth of Prince William and Kate Middleton's son George Alexander Louis, saying that costumers love Dunkin' Donuts stores their "slight tinge of humor."
"We Like to celebrate great things like the royal baby," said Travis.
View Comments and Join the Discussion!
Posted-In: Earnings News Dividends Topics Restaurants Success Stories Hot Markets Best of Benzinga