Jim Cramer's TheStreet Facing Hostile Takeover by Spear Point (TST)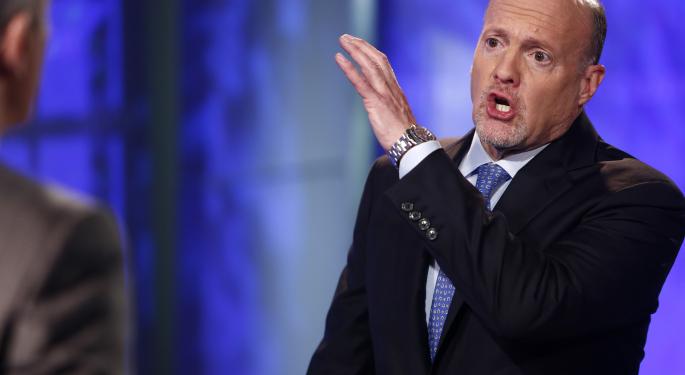 Seven-month old private equity firm Spear Point Buyout Group owns a two percent stake in Jim Cramer's digital media company, TheStreet (NASDAQ: TST).
Spear Point Buyout Group has announced that it will make a bid to take over the company, according to CNNMoney.
Spear Point also wants TheStreet to hire a financial advisor to explore options for the company, including a potential sale. According to CNN, Spear Point has declined to say how much it would be willing to pay for TheStreet.
Silicon Bayou News reported Tuesday that Spear Point founders, Nic Perkin and Ron Bienvenu, are leading the charge against TheStreet as part of an overall strategy to change the way the company does business. Perkin and Bienvenu said that although they respect the fundamentals, they see a wealth of untapped value and a need to address what they call "capital structure deficiencies."
Specifically, Spear Point wants TheStreet to eliminate the preferred stock overhang, which they said diminishes value for common shareholders. Spear Point's Bienvenu expressed a willingness to work with the company to make a fair and reasonable offer.
CNBC television personality Jim Cramer launched TheStreet in 1996 and owns about 4.3 percent of the company. Cramer's charitable trust, Cramer Partners and venture capital firm, Technology Crossover Ventures are other major shareholders.
Cramer's continuing involvement with TheStreet, according to CNNMoney, is a huge question. His contract with the company will expire at the end of this year. Cramer did not return requests for comment from CNNMoney.
The 11.5 percent ownership held by Technology Crossover comes in the form of preferred shares and, according to Spear Point, is the main obstacle to a buyout since a potential buyer would have to cover the $55 million TCV invested originally. This represents a buyout cost of $14.26 per TCV-owned TheStreet share versus the current trading price of less than $2.00 per share.
Spear Point's goals, according to Silicon Bayou News, include cutting costs and taking the company private. Bienvenu said that the group's long-term goal is to fix the company's main capital structure problem.
In 2008, TheStreet's market capitalization was $560 million. Today it is $66.7 million.
Institutional Investor quoted people familiar with the company who said TheStreet has no interest in pursuing the matter and is not for sale. To date, TheStreet's CEO, Elizabeth DeMarse and board of directors have not responded to a letter sent to them by Spear Point explaining why it thought a privatization buyout made sense.
CNNMoney noted that TheStreet's stock went public at $19 a share, tripled on the first day, and has declined 97 percent since then.
Shares of TheStreet were trading, late Tuesday, at $1.98, up $0.04 or 2.3 percent on the day.
At the time of this writing, Jim Probasco had no position in any mentioned securities.
Posted-In: CNBCCNBC News Jim Cramer Rumors M&A Events Media Best of Benzinga
View Comments and Join the Discussion!