Regulation Reform Is A Smooth Process To JP Morgan Chase's Jamie Dimon (JPM)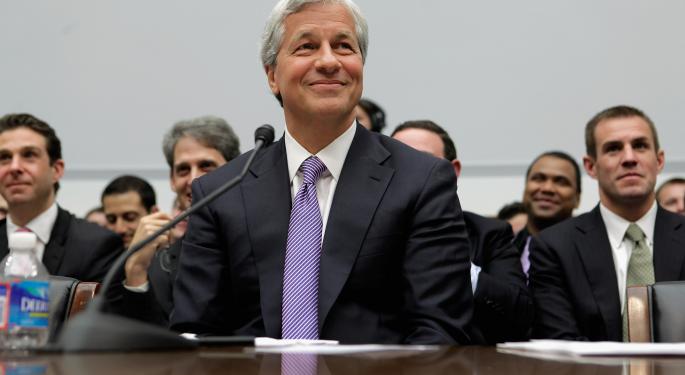 After a great quarter with a lot of capitol gain, JP Morgan Chase (NYSE: JPM) President, Chairman and CEO Jamie Dimon appeared on CNBC live from the New York Stock Exchange Friday morning.
He first predicted healing and growth within the U.S. economy, and said that a healthy economy will "filter" through their "books and business" despite interest rates rising.
JPMorgan Chase has made big money through trading, with Dimon noting that emerging markets were a top earning.
Dimon says that in terms of the regulatory environment, the whole world is going to be in an adjustment period for another year and a half or so, citing that they need to meet regulations in 60 countries around the world before it's back to business as usual.
"The most important thing is we're building client businesses with great franchises," said Dimon.
Related: Mid-Morning Market Update: Markets Mostly Flat, JP Morgan Q2 Profit
Dimon also predicted that small business will see growth as the economy gets better, noting that JPMorgan Chase is a top-lender to small businesses.
"The United States has one of the best economies the world's ever seen, and the widest, deepest, most transparent capital mortgage, which were part of the engine that made this country great," said Dimon.
"So let's make sure that when we're all said and done with our rules, we still got this, which is outstanding."
Dimon spoke diplomatically about new regulation, expressing that we all need to make sure that the system, however it leans, is good.
"I am very pro business, okay? You know, I think businesses, I think big institutions, are great institutions. They treat their people well," said Dimon.
He said that all great companies do fabulous things, despite the mistakes made and "bad apples" out there.
"Companies should acknowledge their -- if you acknowledge your faults you can fix them. If you deny them, you don't fix them. So, we're going to fix them, and I think we're going to make the regulators happier with what we're doing," said Dimon.
Dimon concluded with the prediction that GDP will grow in the U.S. over the next year, and that unemployment will at 6.5 percent.
Posted-In: News Emerging Markets Politics Topics Events Global Economics Federal Reserve Best of Benzinga
View Comments and Join the Discussion!