Steve Ballmer's 'Big Moment' Is Now, Says Former Apple CEO John Sculley (MSFT)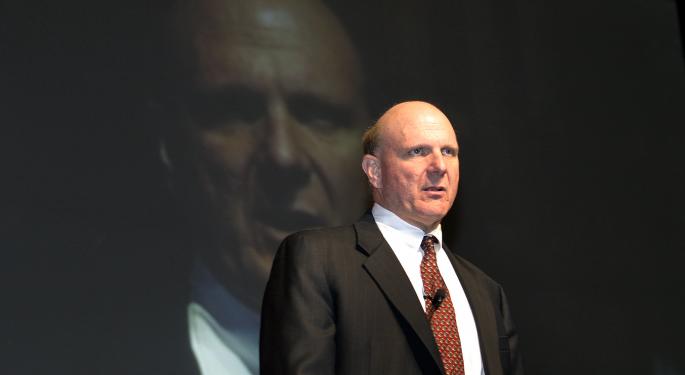 John Sculley, former Apple (NASDAQ: AAPL) CEO and tech entrepreneur, said that Microsoft's (NASDAQ: MSFT) internal restructuring will be CEO Steve Ballmer's "biggest moment since he took over ten years ago for Bill Gates" on CNBC's Squawk Box on Thursday morning.
Soon the company will be mainly about devices and enterprise services, "which really means enterprise services are about the cloud." Sculley said
Sculley cited Microsoft's booming performance over the last year, and said that recently anticipation for great things from the tech giant has been booming.
Related: Tech Stocks Are Paying Record Dividends - But Are They Still Sexy?
The past five years of the tech market has been drive by consumer tech innovation from companies like Amazon (NASDAQ: AMZN), Facebook (NASDAQ: FB), Google (NASDAQ: GOOG), and Apple, Sculley said, which hasn't been Microsoft's major strength. However, in the future, he went on to say, cloud services will be a major tech market driver, and are currently being taken very serious by most major businesses.
"Ballmer is a charging personality. He loves Microsoft. I think he want to leave Microsoft, when he does, with a success in place that can be a foundation to go forward," said Sculley.
Posted-In: CNBC Earnings News Rumors Futures Movers & Shakers Topics Events Best of Benzinga
View Comments and Join the Discussion!