Leap Motion CEO Michael Buckwald On Creating A Touch-Free Computing World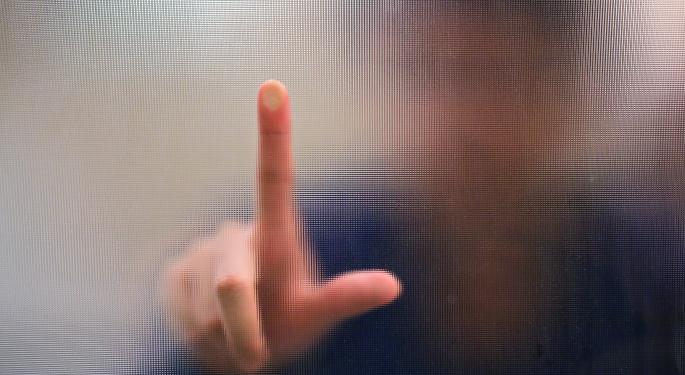 Leap Motion co-founder and CEO Michael Buckwald is unleashing what could be the next monumental innovation to everyday technology.
Think about computing now. Then imagine if everything that you controlled while you were computing didn't require your touch. There's no keyboard, no touch pad, and nothing remotely close to a mouse. Enter the Leap Motion Controller. Buckwald, now 23 years old, began the project two years ago.
"We like to think it's actually probably better than Iron Man and Minority Report, and, ah, basically the goal is to let someone reach in front of their computer and, ah, interact with it like you interact with the real world every day. So, ah, in the same way that we reach out and pick up objects hundreds of times a day, ah, that's the experience we want to bring to a computer and, ah, let you reach in and interact like a character in Minority Report or Iron Man," said Buckwald.
Buckwald said that out of the box, you can control a Microsoft (NASDAQ: MSFT) Windows or Apple (NASDAQ: AAPL) Mac computer. He's very excited about the diversity of applications being developed.
Developers like Autodesk (NASDAQ: ADSK), who made a way for engineers to manipulate 3D models, the New York Times (NYSE: NYT) who have built a 3D news and video reader. Facebook's (NASDAQ: FB) complex data (e.g. profiles, photos, videos, etc.) will also be navigable in 3D space. He also mentioned that there's no shortage of games being developed for the Leap Motion Controller as well.
"So, ah, it definitely is something for everyone," said Buckwald.
Buckwald called Microsoft's Kinect "a great first start for the market," saying that it's good for tracking very broad movements in a living room setting, but that's about it. He also mentioned a noticeable movement delay with the Kinect. According to him, Leap Motion technology has hundreds of times the accuracy, which allows a person to utilize their fingers in real-time.
He said that Microsoft's philosophy with the Kinect is to think about motion control like sign language, where Leap Motion uses accuracy to control a computer in a similar fashion to interacting with physical objects in the real world. This means that there's no real learning curve to worry about.
"It's definitely going to be embedded into computers. Ah, we already announced a deal with Hewlett Packard (NYSE: HPQ) to, ah, embed this in some devices, and, ah, we have other partnerships like that, both on the laptop side in the near-term and in the future, and things like tablets and smartphones and potentially even TVs," said Buckwald.
The peripheral device that connects to laptops and desktops already has hundreds of thousands of pre-orders from all over the world and ships out on July 22. Leap Motion will also be "pursuing licensing of that same technology into devices," and Buckwald said that they're looking to "work with a broad cross section of partners."
Posted-In: News Movers & Shakers Topics Startups Hot Markets Movers Tech Best of Benzinga
View Comments and Join the Discussion!