Forbes Columnist Gordon Chang Predicts Chinese Economy's Catastrophic Failure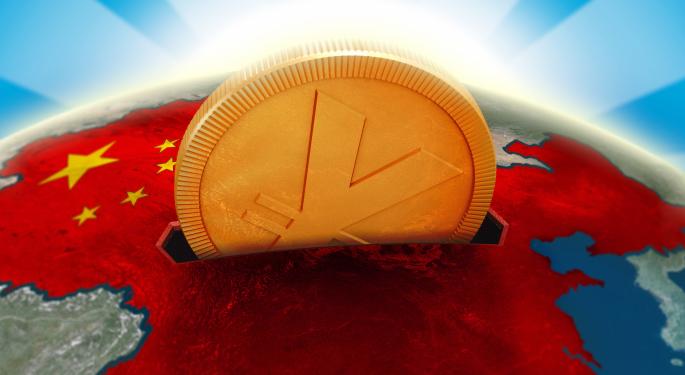 Gordon Chang, author and Forbes Columnist known for his book The Coming Collapse of China, sees China on a decline that's becoming increasingly steeper. He explained his views on CNBC's Squawk Box Monday morning.
Chang began by noting his comments that this is China's "Lehman moment," referring to the former financial services firm's infamous bankruptcy filing that so far remains the largest in U.S. history.
"Everyone is saying this is reform, but there's no such thing as an engineered credit crunch. This is crisis management," said Chang.
"And the crisis began in the first week of May when the state administration on foreign exchange issued that rule cracking down on fake export invoicing. That triggered $40 billion outflow from the banking system and since then, this month we have seen two failed central government bail auctions, two spikes in interbank rates, and two waves of default in the interbank markets. Each crisis is getting worse than the previous one."
Despite the brilliance of "Chinese technocrats, these geniuses in Beijing that we all look to," and their ability to rig the system, there is a semi-open and semi-reformed economy, which means even though they have some control, there are various things that are occurring beyond there control, Chang said.
Part of this, Chang continued, is the wave of lending between enterprises to financially engineer other enterprises. The new government in China has made it a priority to crack down on enterprise engineering, but Chang says they'll fail.
"They're reacting to real incidents in the market. So, this is not like they've said, 'Oh, you know, we're going to concisely reform by tightening credit.' You know, if we thought that they engineered this credit crunch, then the central bank is reckless because of what we have seen in June," said Chang.
According to Chang, the real problem on the table is that China has an industrial economy "that is contracting at the moment," saying that at the same time that's no real use for credit, saying that at the same time overall credit has gone up 52 percent this year.
"You have all sorts of dislocations when you have money going into unproductive uses, and that's exactly what's occurring right now. This is not so much a liquidity crisis as a debt crisis, and it's not so much a debt cries as one of real problems in the fundamental Chinese economy," said Chang.
Chang went on to say that the People's Bank of China doesn't have many options right now because the able was set so long ago with these enormous increases in credit, saying that debt is now perhaps 200 percent of their GDP.
Chang said that the endgame is a financial collapse in China.
This will cause panic in the United States because we don't understand what's going on, Chang said. He cited April 15 when the National Bureau of Statistics issued it's Q1 GDP number showing China's economy at 7.7 percent instead of 8 percent, causing the DOW to drop 266 points. He said that we would have "shrugged it off" if we had a better understanding of the Chinese economy.
The reality of the Chinese economy is that it's not growing at 7.7 percent, but really 3 or 4 percent, and it's at 0 percent when you take out economically useless production.
"There's going to be no winners in any of this, because essentially what you're going to have is catastrophe failure," said Chang in reference to the Chinese economy.
Posted-In: News Politics Topics Global Economics Hot Media General Best of Benzinga
View Comments and Join the Discussion!