The Little Guy is Getting Screwed... But Nothing is Different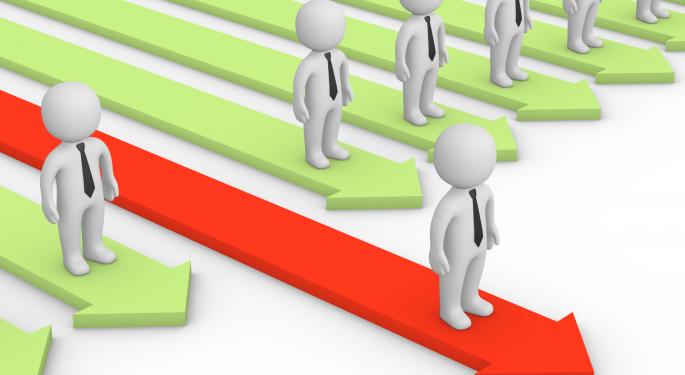 News coverage over the past day has focused on a CNBC report that Reuters and the University of Michigan were gaming investors by selling their Consumer Confidence Survey early to premium and super premium customers. Is this really news? Is this really a crisis? Is this different to the way it has always been?
The answer to all three questions is simply, definitively, and unequivocally no.
Natural Gas Storage Data
Traders in the natural gas market have seen this trend for some time. This morning, at 10:30 am eastern, the weekly storage data was released. The EIA reported that natural gas inventories rose 95 billion BCF's last week, slightly lower than the expected 96 billion rise and below last week's rise of 111 billion BCF's.
Looking at the United States Natural Gas Fund (NYSE: UNG), there were some interesting trades ahead of the release. At 10:29, one minute before the release, the ETF began trading at $20.01. About 20 second before the release, the fund spiked up to $20.10, dropped to $20.05, and then bounced to $20.12. This all happened before the data was released.
A Pattern?
Similar patterns for this one data release are seen on a weekly basis, and yet no media reports have surfaced on it. Week in and week out, it appears as though somebody knows the news slightly before it is released.
Earlier this morning, S&P futures jumped 2 whole points in a period less than two minutes before jobless claims beat expectations. Again, the pattern appears to show that somebody knew the news before the masses.
Screwing the Little Guy?
Small investors really don't stand a chance anymore at trading economic data. The question is: did they ever? Before high frequency traders, before wild computer-driven swings in prices, data points were sold for premium prices. So, the question isn't really if the little guy is getting screwed; the question really becomes is the little guy getting screwed any more than they were?
Again, the answer is no. Data points have been sold for years to premium subscribers before the public gets the data. Other data releases, including the ISM's Manufacturing and Non-Manufacturing Indices, as well as the Chicago PMI, are sold early to premium subscribers. Subscribers to Markit Economics receive their PMI releases 2 minutes before the market. 2 WHOLE MINUTES!!
However, there is one key distinction that needs to be made. Early data releases are made available by PRIVATE COMPANIES that conduct research, aggregate data, and release the data as an index or as a number. Government data, on the other hand, does not have such a system and the government expends lots of effort in protecting against early data releases of PUBLIC SECTOR data.
Missing the Point
Jon Najarian, contributor to CNBC's Fast Money, talking about the University of Michigan and Reuters selling the release early, said, "Shame on them!" Well, if shame on them then shame on every private sector data collector because it's not like they run a business where they need to make money or anything to satisfy investors.
Yes, the University of Michigan is technically a public institution. However, due to the fiscal crisis in Michigan as well as the University's large donor base and endowment, less than 10 percent of its funding comes from the state. As for the Institute for Supply Management and other companies, they are private entities who have shareholders or owners to respond to and operate under the profit motive. So if shame on them, then shame on economics, free markets, and capitalism and all hail Karl Marx.
Posted-In: CNBC News Fast Money Global Econ #s Economics Intraday Update Markets Best of Benzinga
View Comments and Join the Discussion!