Dunkin' Brands CEO Nigel Travis Shows Off The New Glazed Donut Breakfast Sandwich (DNKN)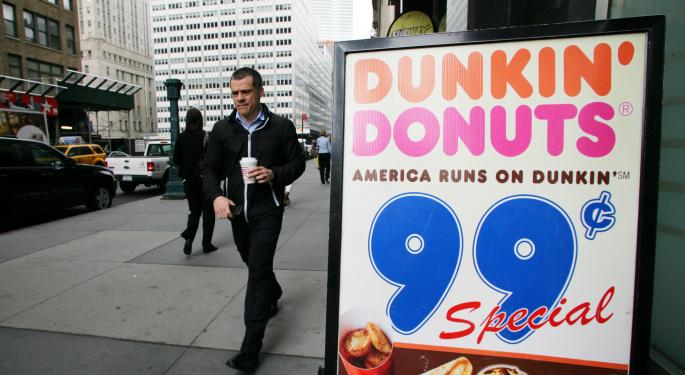 Nigel Travis, Dunkin' Brands (NASDAQ: DNKN) chairman and CEO, popped over to CNBC's Squawk Box to discuss what he thinks is making breakfast better at Dunkin' Donuts.
According to him, the best donut that they've launched is the key lime pie flavor. Travis and his wife agree. It's a summer fruits donut with key lime filling that he said even his kids love. It's hard, however, to care about Travis' doughnut preference when a staple like the glazed has evolved into an epically hyped-up sandwich.
Travis holds up the shinning example of an American breakfast.
"A beautiful glazed doughnut, a fried pepper egg, and smoked, smoked bacon," said Travis.
Homer Simpson would drool a river. Fortunately, eating the tasty twist on breakfast in moderation won't turn you into Homer Simpson. The glazed doughnut breakfast sandwich has only 360 calories.
"This is the best. This is great," Travis said with chipper croon.
"And anyway, what happened was, we were testing it, even I didn't know about it. The media found out about it, ah, it became a big media blitz. So we decided to roll it out and amazingly the media has gone crazy about it again."
He said that they're mainly focused on breakfast and snacking, their two growth categories. He did say that their chicken sandwich was "awesome" calling it "nice and filling." While he didn't call it a lunch item, he did say it was "the kind of product you can eat late in the afternoon."
After running through the foods he wanted to promote, Travis gave his opinion on the economy. From his view of the consumer, those rushed to get breakfast on their way to work, he said that he sees the economy on the up rise.
"We think if you take sequestration, the payroll tax, the credit holiday that didn't get renewed…and then taxation increases, we actually think the economy is doing pretty well and, and I 'm actually pert bullish for the second half of the year cause I think all that's going to be behind us."
He said that Dunkin' Donuts feels stronger as the year goes on and that they're taking on more new employees due to store growth. In terms of the quality of those hires, about 50 percent of their employees are full-time overall. By the end of the year, they'll have added 7,000 extra jobs to the economy.
View Comments and Join the Discussion!
Posted-In: CNBCNews Topics Restaurants Hot Movers Media General Best of Benzinga