The Market Feels Disney Magic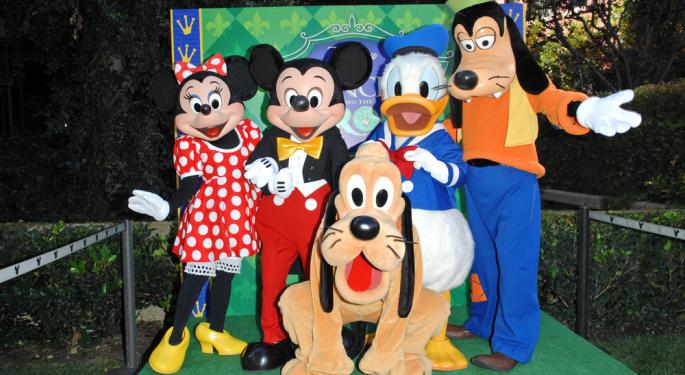 Barton Crockett, senior media and entertainment analyst at Lazard Capital Markets, called in to CNBC's Squawk Box for a chat on The Walt Disney Company's (NYSE: DIS) $0.02 beat, with their Q2 EPS at $0.79 over $0.77 analyst estimates.
Their revenue for Q2 is up $10.55 billion over $10.49 billion analyst estimates.
"I think the whole TV network group is a great group right now," said Crockett.
Crockett cited Disney's strength as a company and their ability to get paid more for their content. He said that Disneyland is on top of their list of strengths.
"A real, just huge momentum turn right now in their parks and resorts segment, but they made a lot of investments. They brought on some new cruise ships, they've invested in Disney California Adventure, Fantasy Land, you know, that was really the star of the quarter," said Crockett.
Crockett went on to discuss the intelligence behind investing in television networks.
"You're basically paying about the same multiple for the TV network stocks and for Disney as you are for the S&P, but you are getting much better earnings growth," said Crockett.
"So I think the idea of multiple expansion for this group continues."
Not everything is perfect in the television world though. For Disney, there was a 40 percent drop in operating income in broadcast, including ABC. Crockett noted that advertising rates increasing at cable sports network ESPN added additional income to offset the drop.
"We don't like that type of trend in the broadcast segment, but you got to put in perspective, ESPN dwarfed the broadcast segment. I mean, the operating profit in their cable networks is a factor of 10 or 20 times the broadcast operating profit, so it's just not that important," said Crockett.
Crockett believes that the turn in the parks is much bigger deal. he also noted that Disney is doing extremely well with their movies, like Iron Man 3. The movies, ranging from the Marvel family to Pixar's lovable characters, also drive other product profits with merchandise and other connected licensing in stores and theme parks. He noted the reboot of Star Wars franchise as another mega-movie profit driver to come.
Crockett thinks that Disney will take the Star Wars franchise to the next level, much like they did with the Avengers and Iron Man 3 movies after acquiring the rights to the Marvel universe. He predicts that it'll be a major boost for the company.
According to Crockett, it was a smart move on Disney's part to license the Star Wars gaming rights to Electronic Arts (NASDAQ: EA), since it's the game developer that's taking the risk in developing and selling the game. This way, Disney receives a licensing fee for each unit that they sell without fearing a loss.
Crockett assured that there was no risk in Disney buying Star Wars, say that they will definitely make it work.
Posted-In: ABC Avengers Barton CrockettNews Topics Hot Media General Best of Benzinga
View Comments and Join the Discussion!