Three Must Read Technical Facts about Apple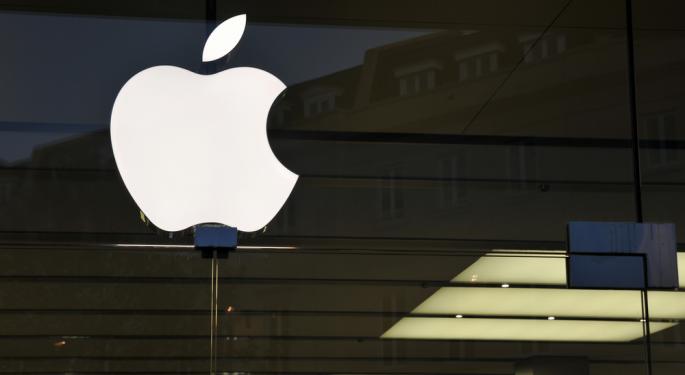 Apparently, the final book value for Apple's (NASDAQ: AAPL) bond deal was $52 billion according to CNBC, but who cares about that? (Actually, it's very important but let's forget about that for now.)
What we're interested in is the chart. The stock is on the move and the past couple of days have investors wondering if this time the move might be for real. There are certainly some technical signals pointing to something good. What are we looking at? Here are three technical signals.
It's above its 50 Day
Yeah, yeah…it did that in late March and only served to drain some brokerage accounts of capital. But since the descent from its highs that started in September, this is only the second time Apple has closed above its key 50 day moving average. The last time it happened, volume was weak.
Speaking of Volume
On Tuesday, Apple traded more than 24 million shares. That's seven million shares higher than the 3 month average. Since the downturn, there have been only six other days where volume was that high that resulted in the stock closing in the green. In contrast, since Apple's downturn, there have been thirteen days where more than 24 million shares were traded where the stock finished down.
Putting these two technical facts together, Apple not only closed above its 50 day, it did it with massive volume. That's something technicians have waited for before giving this rally legs.
It Broke Out of its Descending Channel
Since falling from its highs, Apple has formed a descending channel. There's a lower support line and an upper resistance line. When a stock breaks out of its downtrend by rising above the upper resistance line on volume, that's a bullish sign. (see chart below)
What does this mean for the rest of the week?
Regardless of the positive technical indicators, Apple will need to remain above its 50 day and push higher for at least a few more days before traders believe this is for real. Even then, they'll likely sell at the first sign of trouble.
The next technical area of resistance sits at the psychological level of $450 and then the very important March high of $465. If it can rise above $465, that's an extremely bullish sign. The longs are watching this level closely.
In terms of risk/reward, current levels are still dangerous for longs. Consider waiting to see what will happen if it can challenge $465.
At the time of this writing, Tim Parker was long Apple.
Stock chart: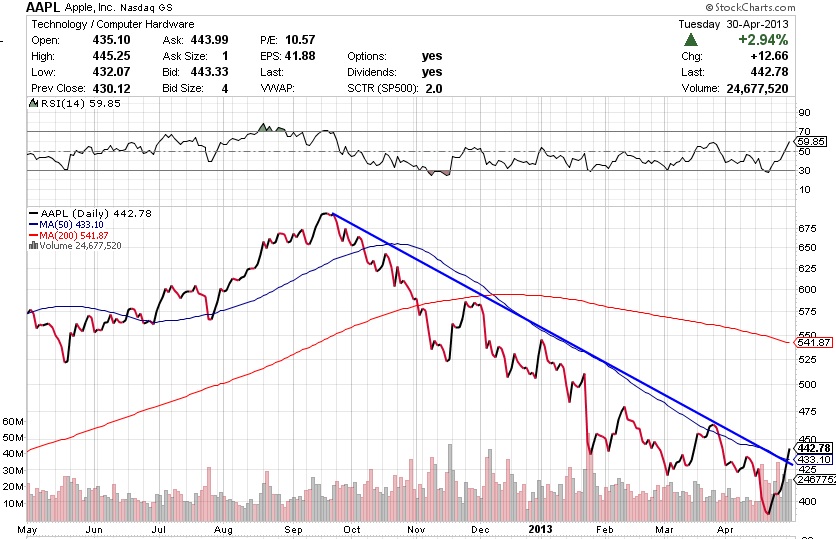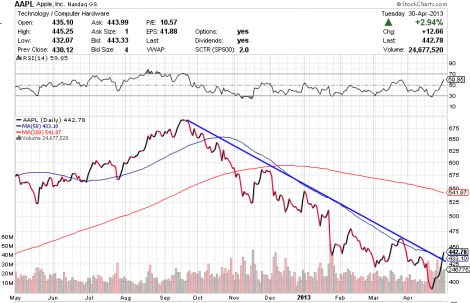 Posted-In: Apple CNBCNews Technicals Events Tech Media Trading Ideas Best of Benzinga
View Comments and Join the Discussion!