It Might Be Time to Buy Sporting Goods Stocks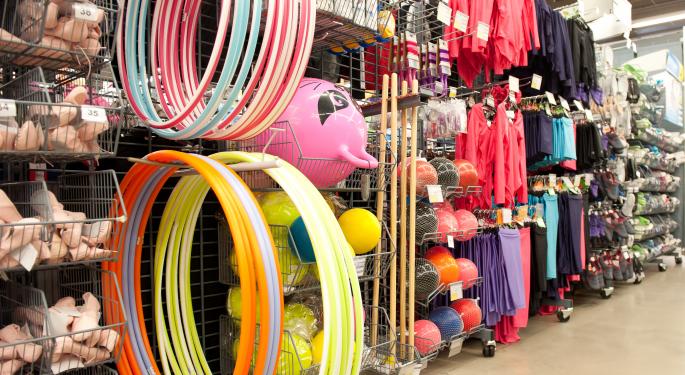 Shares of Cabela's (NYSE: CAB) climbed more than 12 percent Monday as the company increased guidance on its earnings per share. For those who took CNBC's Jim Cramer's advice on March 8 when he said, "If you're long, I'd take half off ahead of the quarter," some upside was missed.
Dick's Sporting Goods (NYSE: DKS) was up almost five percent, closing at $47.32 and a Citi analyst reiterated her "Buy" rating on the sporting goods retailer, saying investors should snap up the discounted shares.
Clearly some of the growth for outdoor retailers can be attributed to consumer fears about pending gun legislation, driving firearms and ammunition sales. Consumer-goods analyst Blake Bos cautions against the sustainability of these types of fear-driven sales numbers.
Bos suggests that current political events could be driving demand, but that it could all change under a different political climate.
Something else will be in play going forward. Something more predictable and more cyclical--spring. With the advent of longer days and warmer weather, anglers take stock of tackle, start buying new equipment, and begin for long for trips to their favorite lakes and streams.
Talk of camping begins, along with thoughts of new tents, cook stoves, canoes and all manner of outdoor gear. These are all items sold by outdoor retailers and spring is big business for this industry.
Moreover, the industry is coming off a good year. The Outdoor Industry Association reports that Outdoor Product sales grew an impressive 5.1 percent to $11.4 billion in the fiscal year ending January 2013. Sales growth was strongest in the National Accounts Internet channel (up nearly 26 percent) and the Independent Outdoor Specialty channel (up 13.1 percent) in fiscal 2012.
Meanwhile, Cabela's reported record fourth quarter results including comparable store sales growth of 12 percent and 18 percent growth in earnings per share year over year. Cabela's produced an after-tax return on capital of 15.9 percent for full-year 2012.
Dick's Sporting Goods, which is twice the size of Cabela's reported solid 12 percent sales growth through the first nine months of 2012. It also reported diluted earnings per share up 5 percent over the same period.
According to a company press release, Dick's Sporting Goods announced Monday its specialty Field & Stream retail concept. The first location is expected to open this fall in Cranberry Township, Pa., and will carry a large variety of brands designed to meet the needs of hunters, anglers and outdoorsmen—a clear competitor to stores like Bass Pro Shops.
Chain Store Age reports that the company plans to open a total of 40 Dick's Sporting Goods stores, one Golf Galaxy store, two True Runner locations, and two Field and Stream stores in 2013 alone. The chain also plans partial remodels of 75 existing Dick's stores.
Posted-In: CNBC Earnings News Guidance Jim Cramer Previews Retail Sales Media Best of Benzinga
View Comments and Join the Discussion!