Cramer Sets Rules For New Bullish Market (BA, HON, LVS, WYNN, BUCY, JOYG, APD, ARG, CAT, DE, WHR, INTC, KO, PEP, ETP, WMT, FE, SYK, UA, LULU, DKS, LTD, PBCT, CHK, ARNA, CLNE)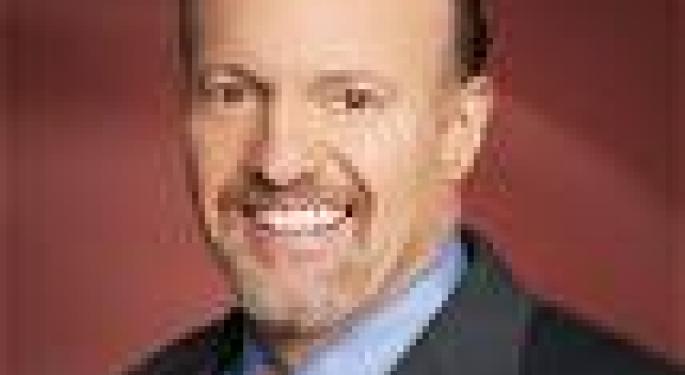 On CNBC's Mad Money, Jim Cramer said that the new bullish market requires new rules. Cramer said that the first rule was to not fear the Democrats. He cited President Obama's pro-business agenda. Rule 2 is that banking uncertainty has declined. Cramer explained that the good news for banks globally is that the recent financial regulations in Europe will take years to take effect and several European banks have already raised a lot of capital.
Cramer said that the third rule is that Europe is becoming more attractive, with the latest growth estimates being double of what was feared. This is good news for companies like Boeing (NYSE: BA) and Honeywell (NYSE: HON). The forth rule, Jim said, was that China is all set for double digit GDP growth. This would be good for companies like Las Vegas Sands (NYSE: LVS), Wynn Resorts (NASDAQ: WYNN), Bucyrus (NASDAQ: BUCY) and Joy Global (NASDAQ: JOYG).
Cramer has not been in favor of the bid by Air Products & Chemicals (NYSE: APD) for Airgas (NYSE: ARG).
"Yes, we still make things in America," Cramer said, citing companies like heavy equipment maker Caterpillar (NYSE: CAT). Shares of CAT are at a 52-week high. Cramer also likes agriculture equipment maker John Deere (NYSE: DE). "Deere is the best run company in the agriculture universe... by far," Jim said. Cramer also likes Whirlpool (NYSE: WHR).
Intel (NASDAQ: INTC) is too low to be sold, Cramer said. Between Coca-Cola (NYSE: KO) and Pepsico (NYSE: PEP), Cramer commented that both were good stocks, although KO has more upside from acquiring its bottlers.
Between Energy Transfer Partners (NYSE: ETP) and Kinder Morgan Energy Partners (NYSE: KMP), Cramer said he would choose Kinder Morgan.
Jim Cramer added that Wal-Mart (NYSE: WMT) could be bought through the employee purchase program.
Cramer was bullish on FirstEnergy (NYSE: FE), Stryker (NYSE: SYK), Under Armour (NYSE: UA), Lululemon Athletica (NASDAQ: LULU), Dicks Sporting Goods (NYSE: DKS), Limited Brands (NYSE: LTD), People's Bank (NASDAQ: PBCT) and Chesapeake Energy (NYSE: CHK).
He was bearish on Arena Pharmaceuticals (NASDAQ: ARNA) and Clean Energy Fuels (NASDAQ: CLNE).
Read more on Jim's Views On Benzinga
Posted-In: CNBC Long Ideas News Jim Cramer Short Ideas Intraday Update Markets Media
View Comments and Join the Discussion!